Rohde & Schwarz RTM2034.34 Digital Oscilloscope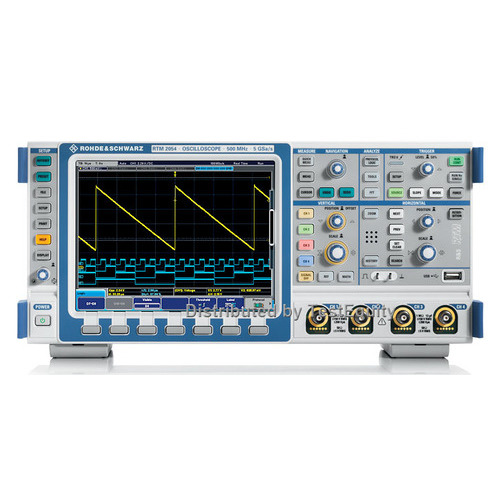 Brand:

Rohde & Schwarz

Condition:

New

Family Models:

RTM2002, RTM2004, RTM2032, RTM2034, RTM2052, RTM2054, RTM2102, RTM2104 RTM2000 Series

Discontinued:

Yes
200 MHz, 350 MHz, 500 MHz and 1 GHz models 2- and 4-channels 2.5 GS/s Sample Rate - 5 GS/s interleaved Memory Depth: 10 M for each channel Mixed Signal Oscilloscope (MSO) option adds 16 digital channels High-resolution 8.4" TFT (XGA) display Extensive triggering options Zoom function and Event Marker simplify detailed analysis QuickMeas key results at the push of a button Low-noise front end for excellent measurement accuracy High channel-to-channel isolation prevents crosstalk High signal fidelity LAN and USB standard, Optional GPIB
Tools for fast signal analysis
Rohde & Schwarz RTM oscilloscopes with 200, 350, 500 MHz or 1 GHz bandwidth offer a maximum sampling rate of 5 G sample/s and a maximum memory depth of 20 M sample. As a result, they can display signals accurately, right down to the details, as well as provide high time resolution, even for long sequences.
Excellent measurement properties and wide variety of practical functions
In addition to the common measurement and analysis tools, Rohde & Schwarz RTM oscilloscopes have special features that help users to achieve the desired results quickly during debugging and signal analysis. At the push of a button, for example, the QuickMeas function graphically displays the key measurement values for the signal that is currently active and updates them continuously.
Compact dimensions, simple operation and brilliant display
Although the RTM2000 Series oscilloscopes feature a wide variety of measurement functions, they are easy and straightforward to use. Their brilliant and very sharp 8.4" color XGA TFT display with high resolution makes even the smallest signal details visible. Despite the large display, these instruments are among the smallest and most lightweight in their class. All this makes them attractive, universal oscilloscopes suitable for versatile and portable use.
Standard accessories: One (1) per channel: 500 MHz passive probe (10:1), quick start guide, CD-ROM (with operating and service manual), and power cord.