Rohde & Schwarz RTO2014.14 Digital Oscilloscope
Rohde & Schwarz RTO2014.14 Digital Oscilloscope
25768.1
MFG #: RTO2014.14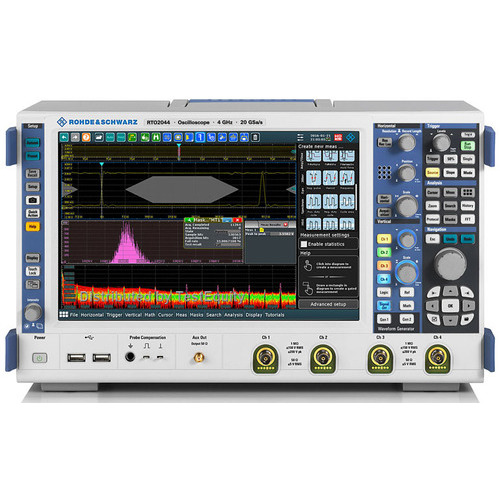 Manufacturer:

Rohde & Schwarz

Condition:

New
Replaces RTO1000 Series Digital Oscilloscopes
600 MHz & 1/2/4/6 GHz Upgradable
2- or 4-channels
MSO Option for 16 digital channels (Opt. RTO-B1)
Up to 16-bit vertical resolution
Up to 20 Gsample/s
10 GS/s Sample Rate, 20 GS/s interleaved on RTO2044/RTO2064
1.000.000 waveforms/s
Memory depth: up to 800MSa (1 channel)
Exclusive digital trigger system provides highly accurate triggering
Hardware-based mask testing and mask triggering
Serial protocols: Hardware-based triggering and decoding
EMI debugging with hardware accelerated spectrum analysis
Configurable display with SmartGrid
LAN and USB Standard, Optional GPIB
Three-year warranty
View video: Trigger and decode of low speed serial buses
Widest range of capabilities
RTO2000 Series oscilloscopes combine excellent signal fidelity, up to 16 bit resolution and high acquisition rates with a compact device format in the 600 MHz to 6 GHz class. The RTO2000 Series offers an extensive set of measurement and analysis functions and an amazingly simple fully-optimized touchscreen operation.
Industry-leading 2 Gsample deep memory
In the basic configuration, R&S®RTO oscilloscopes offer 50 Msample acquisition memory per channel. Applications such as seamless acquisition of long pulse or protocol sequences often require even deeper memory. The RTO oscilloscopes' acquisition memory can be extended up to 2 Gsample. Signal processing in the ASIC ensures a smooth workflow even with deep memory.
Up to 16-bit vertical resolution
The low-noise front end and 10 GHz single-core A/D converter are the foundation for the extraordinarily high measurement accuracy and dynamic range of the RTO oscilloscopes. The high definition mode (HD mode) activates configurable lowpass filtering of the signal after the A/D converter, increasing the vertical resolution to up to 16 bits. Since filtering reduces quantizing noise, signal details become visible.
Trigger on any signal detail you can see
The unique digital trigger system from Rohde & Schwarz uses the sampling points of the A/D converter in the acquisition path so that the trigger system's input data is identical to the displayed signal. The result is minimal trigger jitter without post-processing correction as well as high sensitivity that can be extended up to 16 bits in HD mode. Users can reliably isolate even the smallest signals.
Trigger and decode of low speed serial buses with RTO2000 Oscilloscopes
Debugging low speed serial buses can be difficult and time consuming as data is embedded in protocol frames. With the analysis software of oscilloscopes you can easily decode serial buses, trigger on specific protocol events, utilize label lists and export result tables for further analysis or documentation.
Deep toolset for signal analysis
RTO2000 Series oscilloscopes offer over 90 measurement functions. The functions are organized by type into amplitude and time measurements, jitter, eye, histogram and spectrum measurements. Statistics, histograms and trend and track functions facilitate detailed analysis of the measurement results. The measurement results can also be used in math functions.
Engineered for multi-domain challenges
Rohde & Schwarz RTO oscilloscopes offer a fully integrated multi-domain test solution with frequency, protocol and logic analysis functions. You'll appreciate the standardized user interface with consistent, simple operation of all functions and the fact that all analysis functions are time correlated. The following example clearly demonstrates the benefits. Sporadic failures of embedded design functions are often caused by interference from the internal voltage supply. The RTO2000 Series oscilloscopes can analyze the quality of the voltage supply in the time and frequency domain, depending on processor and interface activity. This one-box solution makes it possible to quickly detect errors even in complex designs.
Integrated spectrum analysis
For frequency analysis, the user simply sets the center frequency, span and resolution bandwidth on the RTO2000 Series oscilloscopes for up to four analog signals — just like on a spectrum analyzer. Thanks to many years of experience in RF development, the oscilloscopes offer an outstanding dynamic range. For debugging, these oscilloscopes can simultaneously display the spectrum and the associated signal path and correlate events. The spectrogram mode, different detectors (such as max. hold) and mask tests offer further analysis capabilities.
Quickly find signal faults with 1 million waveforms/s
RTO2000 Series oscilloscopes display up to 1 million waveforms/s. To make this possible, Rohde & Schwarz developed an ASIC with optimized signal processing, enabling you to quickly and reliably detect sporadic signal faults. A high acquisition rate is even available when histograms, masks or cursor measurements are active.
The RTO2000 Series features a powerful user-
interface with easily customizable waveform display with SmartGrid, documentation at the press of a button, fast access to important tools, high-res touchscreen w/ gesture support and color-coded controls.
RTO-B1 MSO option turns the RTO oscilloscopes into fast, precise and easy-to-use mixed signal oscilloscopes (MSO). MSO option enhances analysis capabilities:
• More signal details
• Reliable triggering
• High acquisition rate
• Serial protocols analysis
• Straightforward display
• Low test point loading
Vertical System
Number of channels
RTO2002 / 2012 / 2022 / 2032
2
RTO2004 / 2014 / 2024 / 2034 / 2044 / 2064
4
Analog bandwidth (–3 dB) and rise time at 50 Ω
RTO2002 and RTO2004
600 MHz
583 ps
RTO2012 and RTO2014
1 GHz
350 ps
RTO2022 and RTO2024
2 GHz
175 ps
RTO2032 and RTO2034
3 GHz
116 ps
RTO2044
4 GHz
100 ps
RTO2064
6 GHz
76 ps
Acquisition system
Realtime sampling rate
RTO2002 / 2004 / 2012 / 2014 / 2022 / 2024
max. 10 Gsample/s on each channel
RTO2044 / 2064
max. 10 Gsample/s on 4 channels
max. 20 Gsample/s on 2 channels
Acquisition memory
standard configuration, per channel/1 channel active
RTO 2-channel model: 50/100 Msample
RTO 4-channel model: 50/200 Msample
max. upgrade (RTO-B110 option), per channel/1 channel active
RTO 2-channel model: 1/2 Gsample
RTO 4-channel model: 1/2 Gsample
Max. acquisition rate
continuous acquisition and display, 10 Gsample/s, 1 ksample
1,000,000 waveforms/s
Please refer to Data Sheet for complete specifications.
Included with RTO2000 Series base units: one (1) 500 MHz passive probe (10:1) per channel, accessories bag, quick start guide, CD with manual, and power cord.