Rohde & Schwarz UPP200.02 Audio Analyzer
Rohde & Schwarz UPP200.02 Audio Analyzer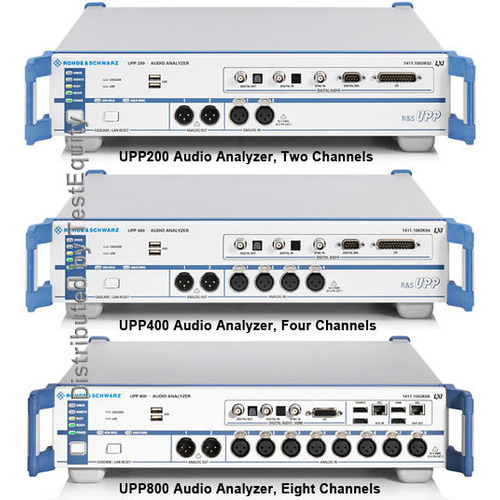 Manufacturer:

Rohde & Schwarz

Condition:

New
Two-, four- or eight-channel analyzer with analog inputs
Suitable for all interfaces: analog, digital and combined
HDMI device testing
Parallel measurements on up to eight channels
Up to 80 kHz bandwidth and 200 kHz sampling rate
User-programmable filters for analyzer and generator
Compact instrument with integrated PC and low height
Multichannel and cost-efficient, for use in the lab and in production
High measurement speed, parallel signal processing in multichannel applications, and high reliability in continuous operation are vital requirements to be met by audio analyzers for use in production.
The compact and cost-efficient UPP200, UPP400, and UPP800 audio analyzers are designed for system applications. They features low height, and comes without front-panel control elements or integrated display. These instruments can be remote-controlled via LAN, USB or GPIB bus. In combination with an external monitor, mouse and keyboard, they becomes manually-operable measuring instruments for a lab bench. The UPP Series models have an integrated control PC, and the required software is already installed, allowing you to take measurements right away.
Featuring the same operating philosophy and remote control as the high-end UPV models, the UPP audio analyzers provide the optimal solution for both R & D and production.
Powerful and fast
Parallel measurements for high throughput
High measurement speed throughout the system
Ideal for use in production
Multichannel measurements by means of cascading
All test signals and measurement functions in a single box
Generation of a wide variety of analog and – with the R&S®UPP-B2/B4 option – also digital test signals
Broad scope of measurements on both analog and – with the R&S®UPP-B2/B4 option – digital interfaces
Powerful and even multichannel FFT analysis with resolution down to the mHz range
User-programmable filters that can be adapted in seconds to the individual measurement task
Integrated control PC; manual operation requires only an external monitor and a mouse and keyboard
Large variety of interfaces offered in a single instrument
Two-, four-, or eight-channel analyzer with analog inputs
UAnalog generator outputs (two-channel)
AES/EBU and S/P DIF interfaces for measuring digital audio components (R&S®UPP-B2 option)
I²S interfaces for testing audio ICs (R&S®UPP-B2 option)
HDMI device testing (R&S®UPP-B4 option)
Interfaces for the generator and analyzer can be set independently of one another and used together in any combination
Convenient operation throughout
TState-of-the-art and intuitive user interface makes operation quick and easy to learn
All measurement results at a glance
Effective online help functions
Options for further applications
R&S®UPP-B2 option providing digital audio interfaces in line with AES/EBU and S/P DIF as well as I²S interfaces
R&S®UPP-K21 digital audio protocol
R&S®UPP-B4 HDMI and digital audio interfaces
R&S®UPP-K41 Dolby© decoding
R&S®UPP-K45 extended audio/video measurements
R&S®UPP-K601 1/n octave analysis
R&S®UPP-K800 cascading software for combining multiple R&S®UPP Audio Analyzer audio analyzers for parallel measurement of more than eight channels
XLR/BNC adapter sets
Connecting cables for digital interfaces
R&S®UPZ audio switcher for switching input and output channels
Included: power cable, quick start guide, and operating and service manual on CD.