Rohde & Schwarz ZVL6.06 Vector Network Analyzer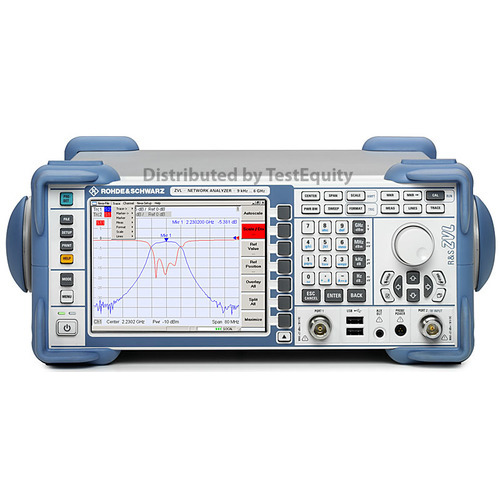 Brand:

Rohde & Schwarz

Condition:

Rental

Family Models:

ZVL
9 kHz to 3, 6, or 13.6 GHz Wide dynamic range: >115 dB, typ. 123 dB Bidirectional test set Measurement of S-parameters, impedance, admittance and stability Upgradeable for spectrum analysis functions Optional internal battery pack LAN & USB interfaces included, opt. GPIB Three-year warranty
Measurements and Features
Measurement output as Smith chart, inverted Smith chart, magnitude and phase, polar diagram, real / imaginary, group delay, VSWR
Very high number of traces and channels, overlay display of traces and different channels in a single diagram
Evaluation of traces within up to 10 ranges: max, min, rms, mean, std deviation, electrical length, phase delay
Evaluation of band pass filters in terms of center frequency, bandwidth, quality factor, attenuation
Optional spectrum analyzer capability (ZVL-K1) combines all functions of the Model FSL Spectrum analyzer (see here) and ZVL in one box.
Versatile solution
The ZVL is ideal for lab applications where the measurement tasks vary frequently; it can be used to measure S-parameters as well as the output spectrum, ACP, and TOI without having to reconnect the device under test (DUT). With the ZVL, production lines can now be run even more flexible, as the switchover from network analyzer to spectrum analyzer can easily be effected via remote control. Moreover, an NRP power sensor, which can be directly connected to the ZVL, ensures precise power measurements.
Favorable price and high performance reduce costs
The ZVL combines a wide dynamic range and excellent measurement speed with versatile functionality. The segmented sweep, the multitrace display, and the powerful marker and trace evaluation are only some examples of the functions that speed up measurement sequences and reduce tuning and measurement times. The price/performance ratio of the ZVL makes the instrument unique among the compact network analyzers in its class.
Compact dimensions and low weight save space and facilitate mobile operation
Weighing less than 7 kg and featuring an instrument depth of only 37 cm, the ZVL is by far the most compact instrument in its class. It is easy to carry and does not require much space on your workbench. The ZVL can be battery-operated, making it ideal for mobile applications.
Upgradeability and compatibility within the instrument family protect your investment
No matter what the challenge, the ZVL quickly takes it on and thus grows with the demands. You can install hardware options as needed on-site in line with the plug & play concept. The user interface and the remote-control command set of the ZVL are similar to those of the ZVB and ZVA. Thus, these network analyzers are interchangeable in development and production — eliminating the need to familiarize yourself with a completely new instrument or to invest in new programming.
USD Price valid in USA only.