Sorensen XPD33-16 XPD33-16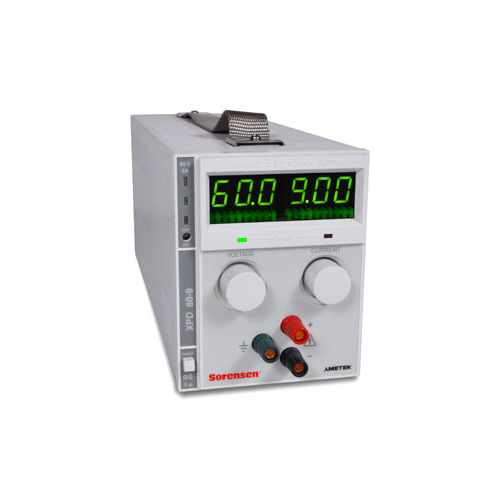 Brand:

Sorensen

Condition:

Used
0-33 Volts, 0-16 Amps, 528 Watts
Power factor correction (0.98 min.)
Zero voltage "soft" switching for high efficiency and low noise
85 to 264 VAC universal input
High efficiency, >80%
10-turn voltage and current control
Constant voltage, constant current
Adjustable overvoltage protection
LED voltmeter and ammeter with bargraph
Remote sensing and analog programming
Output current/voltage monitor
Remote on/off
Optional GPIB and RS-232 interface
Quarter-rack package, benchtop or rack mountable
Smallest 500 watt programmable power supply available
5-Year Warranty
Sorensen XPD33-16 DC Power Supply
TestEquity is an authorized U.S. stocking distributor for Sorensen bench power supplies.
The XPD33-16 provides 528 watts of programmable DC power in a quarter-rack wide chassis. A member of the five-model Sorensen XPD family, it offers the highest power density available in its power range, zero voltage or "soft" switching technology, and power factor correction for low current draw.
For systems applications, the XPD120-4.5 can be rack-mounted in multiple-unit configurations of up to four independent 500 watt outputs. For example, it can be combined with other Sorensen programmable DC power supplies such as the quarter-rack 300 watt HPD and the 60 watt XT.
Go to the Sorensen XPD Series Programmable DC Power Supplies product page for more details, options, and accessories. >>