Sorensen XT250-0.25 Programmable DC Power Supply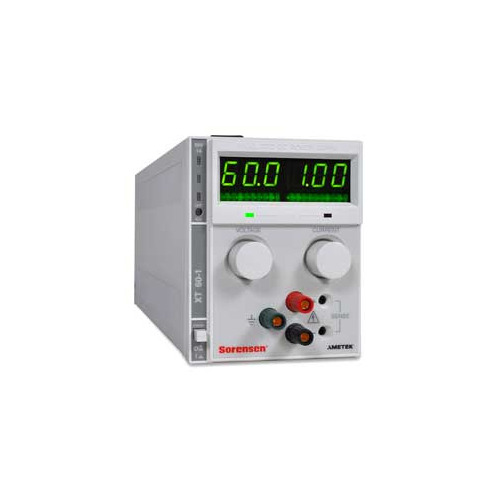 Brand:

Sorensen

Condition:

New

Volts:

250

Amps:

0.25

Watts:

60
LED voltmeter and ammeter with bargraph
Remote sensing
Rack mount capability
10-turn voltage control, 1-turn (optional 10-turn) current control
Constant voltage, constant current
Optional internal analog Programming, GPIB & RS-232
CSA, CE
5-Year Warranty
TestEquity is an authorized U.S. stocking distributor for Sorensen bench power supplies.
The Sorensen XT Series provides 60 watts of programmable linear DC power in a quarter rack package.
A proven product introduced in 1983, the XT is the smart choice for both bench top and system applications where up to 60 watts of programmable, clean DC power is required. Internal analog programming, GPIB and RS-232 interface options make the XT a preferred source for system development and test.
For systems applications, multiple units can be rack mounted in one to four unit configurations for up to four independent 60-watt outputs. XT can also be combined in a rack with the 300-watt HPD or 500-watt XPD.
Programming interfaces are optional - please specify if needed at time of order