Tektronix 80A05 Electrical Clock Recovery Module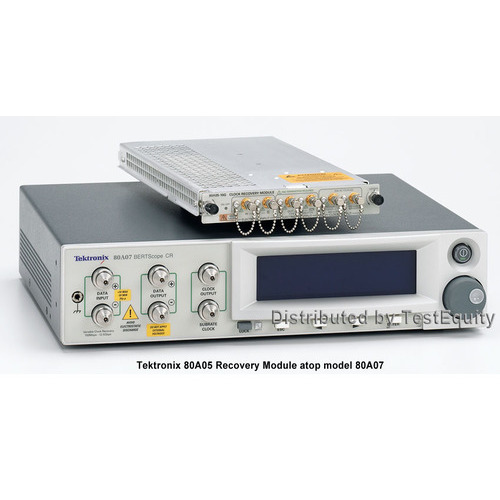 Brand:

Tektronix

Condition:

Rental

Family Models:

80A05, 80A07
The 80A05 and 80A07 Electrical Clock Recovery Modules enable clock recovery for electrical signals. Additionally, the 80A05 provides internal routing of the recovered clock for triggering of the 8200.
The 80A05 provides high level of integration and the best sensitivity available, and is the optimal solution for testing of optical transmitter components and electrical components of optical systems. The 80A05 PLL loop bandwidth selection is automatic with no interaction, leading to easy setup and operation.
The 80A07 recovers clocks from serial data streams for all of the most common electrical standards in the continuous 100 Mb/s to 12.5 Gb/s range. Auto locking capability is selectable from the user interface or programmatic interface, so the design and test engineers can search and lock onto signals of unknown data rates. The 80A07 offers:
Excellent stability
Superior jitter and slew rate
Ability to recover clocks from degraded signals
Unrivaled PLL bandwidth and roll-off shape control for either Golden PLL compliance testing or custom PLL response
Locks on spread-spectrum signals
Includes: User Manual, AND One-year Warranty.
Features & Benefits
Electrical Clock Recovery for:

Enumerated Bit Rates: 50 Mb/s to 3.188 Gb/s (80A05); 100 Mb/s to 12.5 Gb/s (80A07)
Provides fully integrated 80C12 Electrical Clock Recovery Support

Clean 50 Ω Path for the Best Signal Acquisition Fidelity
Option 10G adds support for user selectable rates to 12.60 Gb/s (80A05)
Applications
Serial Data Link and Device Characterization for Computer, Communications, and Consumer Applications
Compliance Testing of Electrical Signaling
High-speed Optical Communications Testing
Jitter, Noise, BER, and Signal Impairment Analysis