Tektronix AWG710B Arbitrary Waveform Generator
Tektronix AWG710B Arbitrary Waveform Generator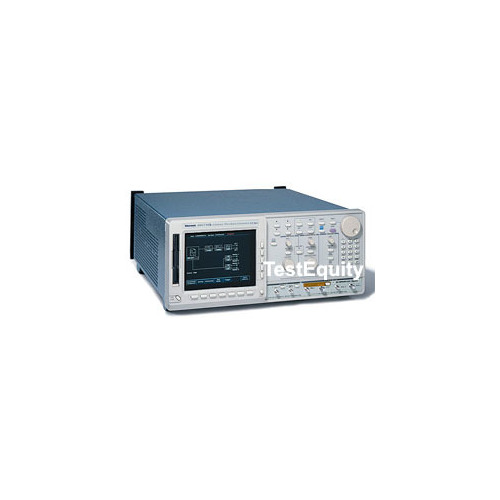 Manufacturer:

Tektronix

Condition:

Rental
The AWG710B Arbitrary Waveform Generator Delivers World-class Signal Fidelity at 4.2 GS/s to Solve Ever-increasing Measurement Challenges. New two box synchronous operation function supports 2-ch 4.2GS/s solution.
The AWG710B combines world-class signal fidelity with ultra high-speed mixed signal simulation, a powerful sequencing capability and graphical user interface with flexible waveform editor, to solve the toughest measurement challenges in the disk drive, communications and semiconductor design/test industries.
The built-in signal applications enable you to easily create standard waveforms for disk drive read channels, communications up to 4.2Gb/s. Also included is AXW100 ArbExpress waveform creation and editing software. This software allows for easy waveform import from oscilloscopes or basic, advanced, and math waveform creation and edit capabilities.
4.2 GS/s Sample Rate Simulates Real-world Signals Up To 2.1 GHz
2 Markers With 2.0 psRMS (@ 4.2GS/s, Typical) Jitter
32.4M (32,400,000) or 64.8M (64,800,000) Point Record Length
Analog Bandwidth to 2 GHz (Option 02)
Direct External clock input
Synchronous operation mode supports two AWG710B outputs (2: analog, 4: marker) synchronization
Waveform Quick Editor with 300 fs Edge Timing Resolution