Tektronix DPO2002B Digital Phosphor Oscilloscope
Tektronix DPO2002B Digital Phosphor Oscilloscope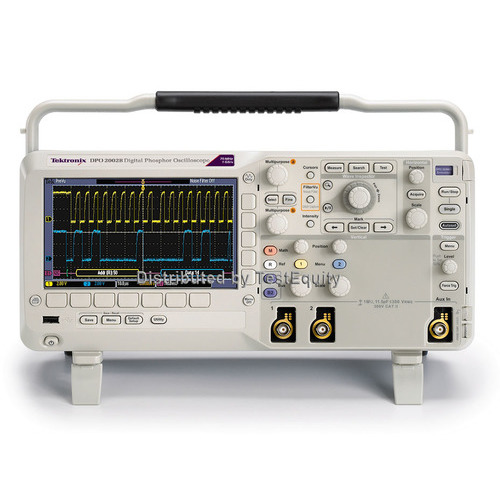 Product Features
Feature-rich Tools for Debugging Mixed Signal Designs
Offering 70 MHz bandwidth, two analog channels and 1 GS/s sample rate, the DPO2002B Digital Phosphor Oscilloscope delivers advanced debug features at an entry-level price. To capture long windows of signal activity while maintaining fine timing resolution, the DPO2002B offers a deep record length of 1 Mpoints standard on both channels. With Wave Inspector® controls for rapid waveform navigation and automated serial and parallel bus analysis, the DPO2002B Oscilloscope provides the feature-rich tools you need to simplify and speed debug of your complex design.
Comprehensive Features Speed Every Stage of Debug
The DPO2002B offers a robust set of features to speed every stage of debugging your design — from quickly discovering an anomaly and capturing it, to searching your waveform record for the event and analyzing its characteristics and your device's behavior.
Discover, Capture, Search, Analyze
A waveform capture rate of 5,000 waveforms per second enables you to see glitches and other infrequent transients quickly, revealing the true nature of device faults. A digital phosphor display with intensity grading helps you discover the history of a signal's activity by intensifying areas of the signal that occur more frequently, providing a visual display of just how often anomalies occur. Discovering a device fault is only the first step. Next, you must capture the event of interest to identify root cause. The DPO2002B provides a complete set of triggers — including runt, logic, pulse width/glitch, setup/hold violation, serial packet, and parallel data — to help quickly find your event. The DPO2002B offers a comprehensive set of integrated analysis tools including waveform- and screen-based cursors, 29 automated measurements, and FFT analysis. Specialized application support for serial bus analysis is also available.
Ease-of-Use and Connectivity Features
Wave Inspector® Controls Provide Easy Navigation and Automated Search of Waveform Data
FilterVu™ Variable Low-pass Filter Allows Removal of Unwanted Signal Noise while still Capturing High-frequency Events
29 Automated Measurements, and FFT Analysis for Simplified Waveform Analysis
TekVPI® Probe Interface Supports Active, Differential, and Current Probes for Automatic Scaling and Units
USB 2.0 Host Port and Device Port
Optional 10/100 Ethernet Port
Tektronix MSO2000B and DPO2000B Series Digital Phosphor/Mixed Signal Oscilloscopes
DPO2002B
70MHz, 1GS/s
1M Memory, 2Ch.
DPO2004B
70MHz, 1GS/s
1M Memory, 4Ch
DPO2012B
100MHz, 1GS/s
1M Memory, 2Ch
DPO2014B
100MHz, 1GS/s
1M Memory, 4Ch
DPO2022B
200MHz, 1GS/s
1M Memory, 2Ch
DPO2024B
200MHz, 1GS/s
1M Memory, 4Ch
MSO2002B
70MHz, 1GS/s
1M Memory, 2+16 Ch
MSO2004B
70MHz, 1GS/s
1M Memory, 4+16 Ch
MSO2012B
100MHz, 1GS/s
1M Memory, 2+16 Ch
MSO2014B
100MHz, 1GS/s
1M Memory, 4+16 Ch
MSO2022B
200MHz, 1GS/s
1M Memory, 2+16 Ch

MSO2024B
200MHz, 1GS/s
1M Memory, 4+16 Ch
Includes: Two TPP0100 100 MHz Probes, Installation and Safety Manual and Translated Front-panel Overlay, Documentation CD (063-4472-xx), OpenChoice® Desktop Software, Calibration certificates document measurement traceability to National Metrology Institute(s) and ISO9001 Quality System Registration, and Power Cord.
70 MHz Bandwidth
2 Analog Channels
1 GS/s Sample Rate on All Channels
1 Megapoint Record Length on All Channels
5,000 wfm/s Maximum Waveform Capture Rate
Suite of Advanced Triggers
7 in. (180 mm) Widescreen TFT-LCD Color Display
Five-year warranty