Tektronix DPO2012 Digital Phosphor Oscilloscope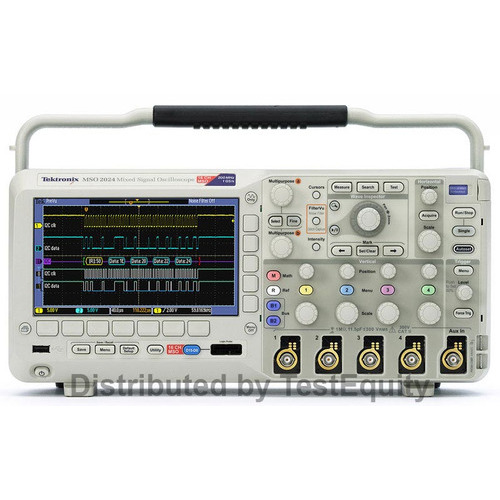 Brand:

Tektronix

Condition:

Used

Discontinued:

Yes
Discontinued.

Replaced with the DPO2000B, MSO2000B Digital Phosphor, Mixed Signal Oscilloscopes.
Overachiever
The MSO/DPO2000 Series, with innovative Wave Inspector® controls and optional serial bus analysis, delivers advanced features at an attractive price point. Debug faster and easier than ever before with Wave Inspector's unique ability to zoom, pan, play, pause and set marks — helping you to efficiently navigate through long records. This makes it an ideal choice when working with today's most common serial buses, such as I2C, SPI, RS-232/422/485/UART, CAN, and LIN.
Need digital channels? The MSO2000 Series adds 16 integrated digital channels, enabling you to visualize and time correlate analog and digital signals on a single instrument. This integration extends triggering functionality across all 20 channels — which is ideal for debugging mixed analog and digital designs.
Wave Inspector Navigation and Search
The Tektronix MSO/DPO2000 Series redefines expectations for working with long record lengths with the innovative Wave Inspector controls, just like the DPO3000 and DPO4000 Series.
Next Generation Digital Waveform Display
In a continued effort to make mixed signal oscilloscopes easy to use, the MSO2000 Series has redefined the way you view digital waveforms. One common problem shared by both logic analyzers and mixed signal oscilloscopes is determining if data is a one or a zero when zoomed in far enough that the digital trace stays flat all the way across the display. The MSO2000 has color coded the digital traces, displaying ones in green and zeros in blue. In addition, the MSO2000 displays white edges around the transition points of digital channels when there is uncertainty between sample points. This acts as a visual reminder that increasing the sample rate on the next acquisition will reveal higher frequency information than your previous settings could acquire.
Channel setup on an MSO can often be time consuming as compared to the traditional oscilloscope. This process often includes probing the device undertest, labeling the channels, and positioning the channels on screen. The MSO2000 simplifies this process by allowing the user to group digital waveforms and enter waveform labels using a USB keyboard. By simply placing digital waveforms next to each other, they form a group. Once a group is formed, you can position all the channels contained in that group together. This greatly reduces the normal setup time associated with positioning channels individually.
Serial Triggering and Analysis
One of the most common applications requiring long record length is serial data analysis in embedded system design. Embedded systems are virtually everywhere. They can contain many different types of devices including microprocessors, microcontrollers, DSPs, RAM, EEPROMs, FPGAs, ADCs, DACs, and I/O. The MSO2000 and DPO2000 Series address these challenges and represent the ultimate tool for engineers working with serial buses such as I2C, SPI, RS-232/422/ 485/UART, CAN, and LIN.
FilterVu™ Variable Low-Pass Filter
Tired of being limited to a 20 MHz bandwidth filter in your oscilloscope? Simply turn on FilterVu and adjust the variable low-pass noise filter. Unlike other variable low-pass filters, FilterVu filters out the unwanted noise from your signal while still capturing glitches and other signal details up to the full bandwidth of the oscilloscope. It does this by showing two waveforms: a waveform that can be filtered and a glitch capture waveform. The result is improved confidence in you cursor measurements and cleaner documentation of important signal attributes.
PC Connectivity and USB Data Storage
The MSO2000 and DPO2000 Series provides flexibility in data transfer with standard USB host and device ports which enable removable data storage, seamless PC connectivity, and direct printing. Also available are optional GPIB, LAN, and Video-Out adaptors. Easily capture, save and analyze measurement results with OpenChoice® Desktop PC Communications software. Simply pull screen images and waveform data into the stand-alone desktop application or directly in Microsoft Word and Excel. To complement OpenChoice, National Instruments LabVIEW SignalExpress™ Tektronix Edition software provides you with extended capabilities, including advanced analysis, remote oscilloscope control and live waveform analysis. Alternatively, if you prefer not to use the PC, you can simply print your image directly to any PictBridge® compatible printer using the USB device port.
TekVPI® Probing
The TekVPI probe interface sets the standard for ease of use in probing. TekVPI probes feature status indicators and controls, as well as a probe menu button right on the input compensation box itself. This button brings up a probe menu on the oscilloscope display with all relevant settings and controls for the probe. The TekVPI interface utilizes a new probe power management architecture enabling direct attachment of current probes (Requires optional TekVPI External Power Adapter 119-7465-00). Finally, TekVPI probes can be controlled remotely by using USB, GPIB, or Ethernet, enabling more versatile solutions in ATE environments.
Includes: One TPP0200 200 MHz, 10x Passive Probe per Analog Channel, User Manual and Translated Front-Panel Overlay, Documentation CD, OpenChoice® Desktop Software, NI LabVIEW SignalExpress™ Tektronix Edition LE Software, Calibration certificates document measurement traceability to National Metrology Institute(s) and ISO9001 Quality System Registration, Power Cord, and a three-year warranty. MSO models also include one P6316 16-channel logic probe and accessory kit, and accessory bag.
2 and 4 Channel models MSO models add 16 digital channels
Up to 1 GS/s on all channels
1 Meg record length on all channels
Wave Inspector® Controls for fast pan, zoom and search
FilterVu™ variable low-pass filter
29 Automated Measurements, and FFT Analysis for Simplified Waveform Analysis
Serial triggering and analysis - I2C, SPI, CAN, LIN and RS-232/422/485/UART
TekVPI™ Probe Interface (Requires TekVPI external power adapter 119-7465-01)
7" Wide TFT-LCD color display
USB for quick and easy storage
Optional Ethernet and video output port
USB 2.0 device port for direct PC control using USBTMC or direct printing