Tektronix DPO7054C Digital Phosphor Oscilloscope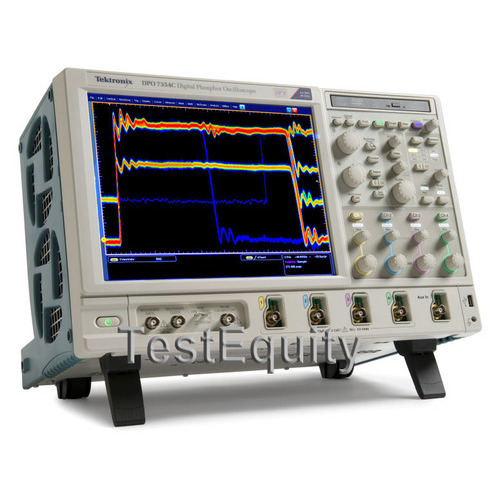 Brand:

Tektronix

Condition:

New

Bandwidth:

500 MHz
p> strong>span style="color:#FF0000; font-size:20px;">Discontinued/span>/strong> /p>
Please see our replacement model: MSO54 5-BW-500
500 MHz Bandwidth
Up to 40 GS/s (1/2/4 Channels) Sample Rate
FastAcq™ provides >250,000 wfm/s waveform capture rate
Intensity-graded, color-graded digital 12.1" XGA phosphor display
Pinpoint® triggers, including serial packet content
125 M (1 ch), 50 M (2 ch), 25 M (3-4 ch) Mpoint standard record lengths
Up to 500 Mpoint optional record lengths
FastFrame™ segmented memory acquisitions
Advanced Search and Mark: finds up to 8 specific events at a time
MultiView Zoom™ for quick navigation
53 automated measurements
Advanced math
Included: Limit Test (LT), Visual Trigger and Search (VET), extended record length (2RL)
Optional: Application-specific support, including: Serial bus debug, Serial bus compliance, Power analysis, Jitter analysis, RF analysis
Serial bus triggering and analysis options for I2C, SPI, RS-232/422/485/UART, USB 2.0
Automated serial analysis for MIPI DSI-1 and CSI-2
Comprehensive verification including serial debug and compliance with jitter and eye validation, power analysis, MIPI D-PHY, Ethernet, USB and wideband RF analysis
Standard removable hard disk drive
Windows system
LXI Class C compliant
Comprehensive Tools for Debugging Mixed Signal Designs
With the DPO7000C Series oscilloscopes, you can visualize and characterize analog, digital and serial signals with a single instrument to quickly find and diagnose problems in complex embedded system designs. Bandwidths up to 3.5 GHz and a maximum sample rate of up to 40 GS/s provide the performance you need for many of today's mainstream applications. A deep standard record length of 12.5 Mpoints with up to 500 Mpoints on one channel enables you to capture long windows of signal activity while maintaining fine timing resolution.
Extend the Time Span of Capture
The DPO7000C Series comes standard with 12.5M per channel record length allowing you to capture many events of interest in a single acquisition for further analysis. With up to 500 M points of record length available, you can capture thousands of serial packets while maintaining high resolution to zoom in on fine signal details. The DPO7000C Series includes the popular FastFrame segmented memory acquisition as a standard feature. FastFrame eliminates long dead periods in between signal activity making more efficient use of your record length by breaking it up into segments, each containing a triggerable event.
Included: One passive voltage probe per analog channel (P6139B: 500 MHz, 10X, 8 pF), accessory pouch, front cover, mouse, quick-start user manual, DPO7000C Series product software media and documentation including performance verification and programmer's manual, NI LabVIEW SignalExpress Tektronix Edition software, Calibration Certificate documenting measurement traceability to National Metrology Institute(s), Z 540-1 Compliance and ISO9001, power cord, one-year warranty (Three-year warranty issued with DPO7xxxCW3 models).