Tektronix DSA70404C/10XL Digital Signal Analyzer
4 GHz Bandwidth
4-channels
25 GS/s Sample Rate
Record Length: 31.25 M, each channel (standard)
Waveform Capture Rate: >300,000 wfms/s maximum per channel
Unique iCapture™ capability enables viewing analog characteristics of digital channels with single probe connection
6.25 Gb/s Real-time Serial Trigger
Application Support for High-speed Serial Standards, wideband RF, Power supplies, and memory
USB 2.0 host port on both the front panel and rear panel for quick and easy data storage, printing, and connecting a USB keyboard
Integrated 10/100 Ethernet port for network connection and Video Out port to export the oscilloscope display to a monitor or projector
See your real signal
The 4 GHz DPO70404C's industry-leading signal fidelity, minimum noise and highest effective number of bits (ENOB) provide confidence you are seeing your real signal and measuring it precisely. High signal-to-noise ratio and low internal noise floor enable you to perform precise characterization of your designs.
Reduce debug time
From first power-on through operational checks the DPO70404C provides features you need to find problems fast. An industry-leading waveform capture rate and Pinpoint® triggering make you efficient at tracking down and capturing intermittent faults. iCapture™ Analog MUX is a unique Tektronix innovation for viewing an electrical signal in digital and analog forms simultaneously using a single voltage probe. Download White Paper
Custom Multi-Chip Module (MCM)
The Tektronix MSO/DPO70000DX Series oscilloscopes contain a custom, highly advanced, front-end Multi-Chip Module (MCM) that delivers 33 GHz bandwidth, 100 GS/s sample rate, variable termination voltage and unmatched sensitivity matching the characteristics of today's fastest signals, ensuring high-speed signals never touch the PCB before they are sampled. Download White Paper
Measurement and analysis tools that keep you on track
Application support packages provide automated compliance testing, insightful debugging tools and the extensive signal connection options you need to verify and certify your latest design. With more than 30 different oscilloscope software analysis packages — from technology specific measurement and compliance software, to application solutions for jitter and timing analysis, channel emulation and equalization tools — your DPO70404C oscilloscope can analyze your most challenging system designs. Choose from a wide selection of Tektronix oscilloscope software, including:
DPOJET: the most comprehensive, flexible measurement tool available
SDLA: the most powerful, complete tool for analyzing and compensating for signal affects in serial data links
Broadest range of standards support, including I2C, SPI, RS-232, FlexRay, MIPI, DisplayPort, HDMI, PCIe Gen3/Gen4, SATA/SAS, USB3.1, Type-C, 10/100BaseT to 10G/100G Ethernet
Powerful debugging tools to quickly uncover/fix design challenges
Optical measurements, such as Extinction Ratio (ER), Average Optical Power (AOP), Optical Modulation Amplitude (OMA), Optical High/Optical Low value - compatible with DPO7OE1/DPO7OE2 optical probe
DPO7OE Series Optical Probes
The DPO7OE Series Optical probes can be used as an Optical Reference Receiver for high speed serial data signals (using selectable Bessel-Thomson ORR filters), or can be used as a conventional O/E converter for general wide-bandwidth optical signal acquisition. The DPO7OE Series is compatible with DPO/MSO70000 C/DX/SX models. Connected to TekConnect channels for up to 33 GHz bandwidth.
Uncompromised four-channel acquisition
With very low noise and 25 GS/s sample rate on all four channels the DPO70000 Series ensures that signal integrity checks and timing analysis can be done without worrying about noise and jitter in the scope distorting the measurements. For applications requiring the lowest internal noise and jitter, 25 GS/s performance further reduces noise and jitter and provides additional measurement headroom.
Capture more signal detail
The DPO70404C oscilloscope delivers exceptional signal acquisition performance and analysis capability. Automate setup, acquisition and analysis of high-speed serial data signals with a toolset engineered to deliver faster design debug and compliance testing.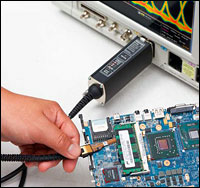 DPO/MSO70000 Series applications include:
Design verification including signal integrity, jitter, and timing analysis
Design characterization for high-speed, sophisticated designs
Certification testing of serial data streams for industry standards
Memory bus analysis and debug
Prototype turn-on and power supply verification
Research and investigation of transient phenomena
Production testing of complex systems
Spectral analysis of transient or wide-bandwidth RF signals