Tektronix DSA8200 Sampling Oscilloscope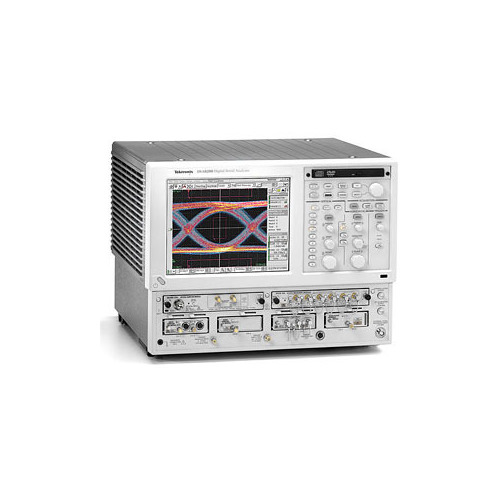 Brand:

Tektronix

Condition:

Rental

Meta Keywords:

Tektronix DSA8200,Tektronix,DSA8200
State-of-the-Art Sampling Oscilloscope for Communication Signal Analysis, TDR / TDT / Serial Data Network Analysis, Acquisition, and Measurements of Repetitive Ultrafast Signals
Acquisition of Spread Spectrum Clocking (SSC) Signals
Industry's Only Mainframe to Support up to 8 Input Channels for Increased Flexibility and Throughput
Four Color-graded, Variable Persistence Waveform Databases
Measurement System with Over 100 Automated Measurements
Complete Suite of Communications Measurements includes Both Types of OMA, SSC Profile, and Many Others
Automated ITU/ANSI/IEEE Mask Testing
Masks and Measurements for SONET/SDH, FC, Ethernet, and Other Standards Built-in
Mask Updates can be Loaded from Factory-supplied File
Mask Margin Testing for Guard Banding Production Testing
Discontinued.
Acquisition Modules
Fully Integrated Multirate Optical Modules
Optical Modules up to 80 GHz 80C10B
High-accuracy "ER Calibrated" Measurement Available in Some Modules
Electrical Modules up to 70+ GHz Bandwidth and 5 ps Measured Rise Time (10-90%)
Flexible Rate Clock Recovery
Clock Recovery with SSC (Spread Spectrum Clocking) Support Available
Jitter, Noise, BER, and Serial Data Link Analysis
Measures and Separates Deterministic Data-dependent Jitter from Random Jitter
Measures Vertical Noise, Separating Deterministic Data-dependent Noise from Random Noise
Highly Accurate BER and Eye Contour Estimation, Support for DDPWS
FFE/DFE Equalization, Transmitter Equalization
Channel Emulation for Channels with >30 dB of Loss
Linear Filter for Fixture De-embedding, Linear Filtering
TDR (Time Domain Reflectometry)
Up to 50 GHz TDR Bandwidth with 15 ps Reflected Rise Time and 12 ps Incident Rise Time
Lowest Noise for Accurate Repeatable TDR Measurement Results – 600 ?VRMS at 50 GHz
Independent Sampler Deskew ensures Easy Fixture and Probe De-embedding
Industry's Only Mainframe to Accommodate up to Four True-differential TDR or Electrical Channel Pairs for Increased System Versatility
S-parameters Measurements
Up to 50 GHz Differential, Single Ended, Mixed Mode; Insertion, Return Loss, Frequency Domain Crosstalk
PCI Express, Serial ATA, Infiniband, Gigabit Ethernet Manufacturing, and Standard Compliance Testing for Gigabit Signal Path and Interconnects – Including Eye Mask Tests
Intuitive, Easy, and Accurate for Serial Data, Gigabit Digital Design, and Signal Integrity
Fast and Accurate Automated Multiport S-parameter Measurements with Command Line Interface
Applications
Design/Verification of Telecom and Datacom Components and Systems
Manufacturing/Testing for ITU/ANSI/IEEE/SONET/SDH Compliance
High-performance True-differential TDR Measurements
Advanced Jitter, Noise, and BER Analysis
Impedance Characterization and Network Analysis for Serial Data Applications including S-parameters
Channel and Eye Diagram Simulation and Measurement-based SPICE Modeling
Industry Leading Signal Fidelity for the Most Challenging System Designs
Today's high speed designs make signal path characterization and BER performance analysis harder then ever before. With the highest TDR Bandwidth, the fastest S-parameter measurements, and most comprehensive analysis tools available. The DSA8200 digital serial analyzer provides a complete network and link analysis solution.

The DSA8200 provides unmatched measurement system fidelity with ultra-low jitter floor that ensures the most accurate acquisition of high-speed signals. You get advanced analysis benefits from the 200 fs acquisition jitter with the Phase Reference module. And in another step forward for a sampling oscilloscope, with the help of the Phase Reference module the DSA8200 can acquire and measure SSC (Spread Spectrum Clocking) signals
Please see Data Sheet for additional information.