Tektronix EDUKIT Educator's Resource Kit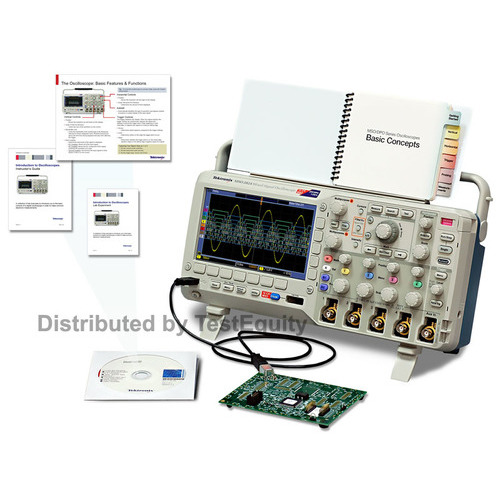 Brand:

Tektronix

Condition:

New
The Laboratory materials cover the following topics:
Introduction to Oscilloscopes, Oscilloscope Probes
Advanced Oscilloscope Features
Introduction to Arbitrary/Function Generators
Digital Debug with Oscilloscopes
Parallel and Serial Bus Analysis
All materials are based on the feature-rich MSO2000 Series Mixed Signal Oscilloscope. An AFG3000 Series instrument is also required for Introduction to Arbitrary/Function Generators lab.
All instructional materials are provided in both .pdf format and an editable format (either Word document or PowerPoint file). The copyright grants permission to reprint, modify, and distribute in whole or in part for the purpose of training students on Tektronix test instrumentation.
The EDUKIT Educator's Resource Kit includes:

MSO/DPO Series Oscilloscopes Basic Concepts booklet
CD with printable and editable versions of student lab experiments, instructor guides, and student reference fact sheets
Demo board and USB cable
Printed User Manual

Six Laboratory Experiments
Problem-based learning
Hands-on using real-world signals
Designed to match lab time; scale from 2-4 hours
Six Instructor's Guides
One to support each experiment
Answers to the exercises
Helpful hints to perform the experiments
Six Reference Fact Sheets
Designed for students
Covers basic T&M theory
Reference tools for use during the lab
Basic Concepts Book
Covers basic features and functions of the oscilloscope
Attaches to the top of oscilloscope
Demo board and USB cable
Noisy sine wave
Digital signal with common anomalies
Parallel bus
RS-232 serial bus
With ever-evolving technologies and standards in electronics, preparing electrical engineering students for tomorrow is not easy. Tektronix has developed the Educator's Resource Kit to help you prepare your lab curriculum with the latest standards and techniques for test and measurement. The comprehensive set of six laboratories cover key topics from Introduction to Oscilloscopes to Advanced Oscilloscope Features and Debugging a Digital Design. The Kit includes labs with accompanying instructor's guides, reference fact sheets for students and a training board to provide real-world signals during the labs.