Tektronix LPD64 6-BW-8000 Low Profile Digitizer, 8 GHz
Tektronix LPD64 6-BW-8000 Low Profile Digitizer, 8 GHz
29236.1
MFG #: LPD64 6-BW-8000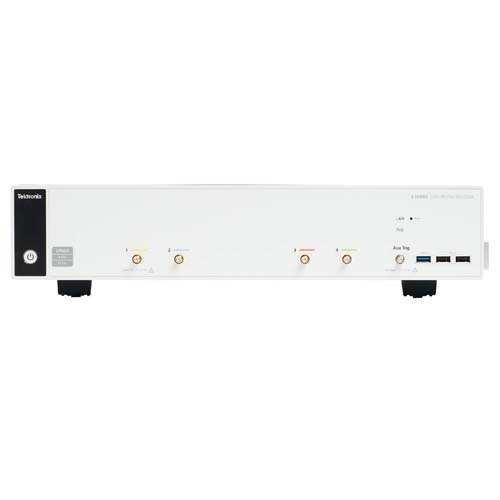 Manufacturer:

Tektronix

Condition:

New

Bandwidth:

8 GHz
8 GHz Bandwidth
4 SMA inputs
Each input supports Analog, Spectral (using DDC), or both simultaneously
Sample Rate: 25 GS/s
Vertical Resolution: 12-bit ADC
Real-Time 2 GHz DDC (optional)
Record Length: 125 Mpts (std), 250 Mpts (optional)
Best-in-class channel-to-channel isolation, lowest-in-class noise, highest-in-class ENOB
2U high form factor
The 6 Series Low Profile Digitizer (LPD64) represents the highest performance digitizer on all channels in its class. This high-speed digitizer has the functionality of a digitizer and the power of an oscilloscope, sharing a similar hardware platform as the 6 Series MSO.
The transition from a 6 Series MSO benchtop oscilloscope to a Low Profile Digitizer has never been easier for R&D engineers needing to move their code, test work and platform performance into manufacturing and automation. Both products support the same user interface, remote capability, performance characteristics and programming back-end to make this transition as simple and easy as possible. No need to rewrite test routines and development test cycle code!
Includes: Rackmount attachments installed; Installation and safety manual; Embedded Help; Power cord; Calibration certificate documenting traceability to National Metrology Institute(s) and ISO9001/ISO17025 quality system registration; One-year warranty. Probes are NOT included.
| | |
| --- | --- |
| 6-AFG | Arbitrary function generator |
| 6-CMAUTOEN | Automotive Ethernet (100Base-T1) automated compliance test application |
| 6-CMDPHY | MIPI D-PHY 1.2 Automated Compliance |
| 6-CMENET | Ethernet (1000Base-T, 100Base-T, 10Base-T) Automated Complliance Solution |
| 6-CMNBASET | Ethernet (2.5G and 5G BASE-T) Automated Compliance Solution (Min BW 2.5GHz) |
| 6-CMUSB2 | USB2.0 automated compliance test application (Requires TDSUSBF USB test fixture, Min 2.5GHz BW for high-speed USB) |
| 6-CMXGBT | Ethernet (10G BASE-T) Automated Compliance Solution (Min BW 4 GHz) |
| 6-DJA | Advanced jitter and eye analysis |
| 6-PWR | Power measurement and analysis |
| 6-RL-2 | Extend record length to 250M/ch maximum |
| 6-SRAERO | Aerospace serial triggering and analysis (MIL-STD-1553, ARINC429) |
| 6-SRAUDIO | Audio serial triggering and analysis (I2S, LI, RJ, TDM) |
| 6-SRAUTO | Automotive serial triggering and analysis (CAN, CAN-FD, LIN, FlexRay) |
| 6-SRAUTOSEN | Automotive sensor serial triggering and analysis (SENT) |
| 6-SRCOMP | Computer serial triggering and analysis (RS-232/422/485/UART) |
| 6-SREMBD | Embedded serial triggering and analysis (I2C, SPI) |
| 6-SRENET | Ethernet serial triggering and analysis (10BASE-T, 100BASE-TX) |
| 6-SRI3C | I3C serial analysis |
| 6-SRPM | Power management serial triggering and analysis (SPMI) |
| 6-SRUSB2 | USB serial triggering and analysis (USB 2.0 LS, FS, HS) |
| LPD64 6-SEC | Enhanced security |
| LPD64 C3 | Calibration service 3 years |
| LPD64 C5 | Callibration service 5 years |
| LPD64 D1 | Calibration Data Report |
| LPD64 D3 | Calibration Data Report 3 Years (with Option C3) |
| LPD64 D5 | Calibration Data Report 5 Years (with Option C5) |
| LPD64 G3 | Three Year Gold Care Plan |
| LPD64 G5 | Five Year Gold Care Plan Support among others |
| LPD64 R3 | Standard Warranty Extended to 3 Years |
| LPD64 R5 | Standard Warranty Extended to 5 Years |