Tektronix MDO32 3-BW-350 Mixed Domain Oscilloscope, 350 MHz, 2+16 CH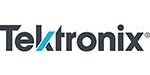 Tektronix MDO32 3-BW-350 Mixed Domain Oscilloscope, 350 MHz, 2+16 CH
28840.1
MFG #: MDO32 3-BW-350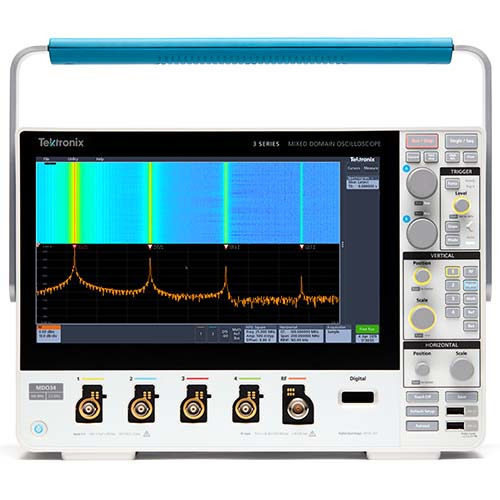 Brand:

Tektronix

Condition:

New

Bandwidth:

350 MHz

Analog Channels:

2

Digital Channels:

16

Meta Keywords:

oscilloscope, mdo, digital, spectrum, analyzer, serial, decode, tektronix
*Product images above display MDO34.
350 MHz Bandwidth
2 Analog Channels
16 Digital Channels (with MSO Option)
2.5 GS/S Sample Rate
10 M Record Length on all channels
Spectrum Analyzer, 1 GHz or 3 GHz (optional)
ARB Function Generator (optional)
Serial bus support for I2C, SPI, RS-232/422/485/UART, USB 2.0, CAN, CAN FD, LIN, FlexRay, MIL-STD-1553, ARINC429, and Audio standards (optional)
Digital Voltmeter/Frequency Counter (free with product registration)
11.6" HD display with capacitive touchscreen
See data sheet for available measurement and analysis options
Experience a big, high-definition display in a compact, portable scope. An award-winning, made-for-touch interface turns the learning curve into a step function. The unique, built-in spectrum analyzer (optional) makes it great for RF analysis.
At the core of the 3 Series MDO is a world-class oscilloscope, offering comprehensive tools that speed each stage of debug – from quickly discovering anomalies and capturing them, to searching your waveform record for events of interest and analyzing their characteristics and your device's behavior.
Mixed Signal Oscilloscope (optional)
Logic analyzer functionality (option 3-MSO) provides 16 digital channels which are tightly integrated into the oscilloscope's user interface. This simplifies operation and makes it possible to solve mixed-signal issues easily.
Unique built-in Spectrum Analyzer (optional)
The Tektronix MDO series is the only oscilloscope to offer an integrated, hardware-based spectrum analyzer. The spectrum analyzer frequency range of the 3 Series MDO can be from 9 kHz to 1 GHz or 3 GHz (option 3-SA1 or 3-SA3), enabling spectral analysis on IoT and most consumer wireless standards.
Typical applications
Embedded design and IoT
Discover and solve issues quickly by performing system level debug on mixed signal embedded systems including today's most common serial bus technologies with the 3 Series MDO and support for a broad set of common serial buses.
Power design
Make reliable and repeatable voltage, current, and power measurements using automated power quality, switching loss, harmonics, ripple, modulation, and safe operating area measurements with the widest selection of power probes in an affordable solution.
Education
Managing multiple instruments on a bench can be troublesome. The 3 Series MDO combines analog, digital, and RF measurements with a signal source in a single, small (5.9 in., 149 mm deep) instrument. The combination of a small instrument and high level of integration aids in the teaching of various electronics principles as well as in its usage for more sophisticated lab experiments. Full upgradeability enables adding functionality over time as needs change or budgets allow.
Manufacturing Test and Troubleshooting
Size and space constraints can play havoc on a manufacturing floor. The 3 Series MDO minimizes rack or bench space by integrating multiple instruments into one small package. Integration reduces cost associated with utilizing multiple different instrument types in manufacturing test or troubleshooting stations.
Service Installation and Maintenance
Having the right instruments when and where you need them is critical. The 3 Series MDO combines analog waveforms, digital logic, and spectrum analysis in a lightweight (11.7 lbs, 5.3 kg), portable package - making it the perfect choice where space is limited and flexibility is desired.
Includes: One TPP Series passive probe per channel.