Tektronix MDO4024C SA3 Mixed Domain Oscilloscope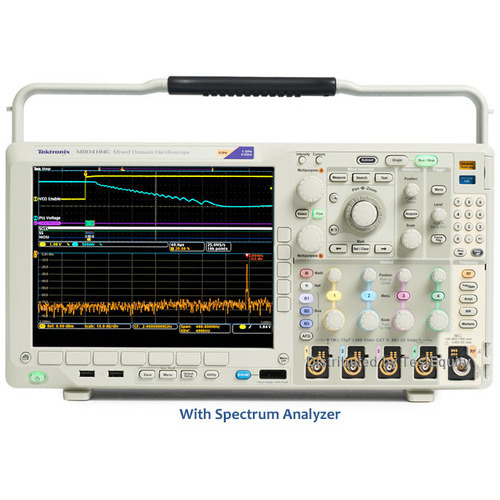 Condition:

New

Drill Down Description:

Mixed Domain Oscilloscope

Model:

MDO4024C SA3

Quote Required:

No

Web Meta Description:

Shop here for the TEK MDO4024C/SA3 plus the other tools & supplies. With unmatched product selections, TestEquity offers everything you need to get the job done.

S3 Part Number:

24553.1
Customizable and fully upgradable 6-in-1 integrated oscilloscope with synchronized insights into analog, digital, and RF signals
Oscilloscope
Spectrum Analyzer
Arbitrary/Function Generator
Protocol Analyzer
Logic Analyzer
Digital Voltmeter/Frequency Counter
Introducing the 1 GHz MDO4104C 6-in-1 integrated oscilloscope that includes a spectrum analyzer, arbitrary/ function generator, logic analyzer, protocol analyzer and DVM/frequency counter. When configured with an integrated spectrum analyzer, it is the only instrument that provides simultaneous and synchronized acquisition of analog, digital and spectrum.
The MDO4104C is completely customizable and fully upgradable. Add the instruments you need now — or later. If your challenges include wireless module integration or EMI troubleshooting, this is the scope you want on your bench.
Digital Phosphor Technology with Fastacq™ High-Speed Waveform Capture
Digital phosphor technology with FastAcq provides you with fast insight into the real operation of your device. Its fast waveform capture rate — greater than 340,000 wfms/s — gives you a high probability of quickly seeing the infrequent problems common in digital systems: runt pulses, glitches, timing issues, and more.
Triggering
MDO4104C contains over 125 trigger combinations providing a complete set of triggers — including runt, logic, pulse width/glitch, setup and hold violation, serial packet, and parallel data — to help quickly locate your event of interest. And with up to a 20 M record length, you can capture many events of interest.
Waveform Analysis and Histograms
The MDO4104C offers a comprehensive set of integrated analysis tools including waveform-and screen-based cursors, automated measurements, advanced waveform math including arbitrary equation editing, FFT analysis, waveform histograms, and trend plots for visually determining how a measurement is changing over time. Horizontal waveform histograms are especially useful for gaining insight into how much jitter is on a clock signal, and what the distribution of that jitter is. Vertical histograms are especially useful for gaining insight into how much noise is on a signal, and what the distribution of that noise is.
Wave Inspector® Waveform Navigation and Automated Search
With long record lengths, a single acquisition can include thousands of screens of waveform data. Wave Inspector, the industry's best tool for waveform navigation and automated search, enables you to find events of interest in seconds.
Typical applications include: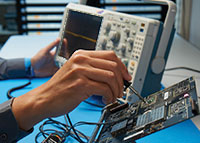 Get complete insight into mixed signal embedded designs with a unique synchronized view of analog, digital and RF signals.
Embedded Design
Perform system-level debug on today's most common serial bus and wireless technologies.
Power Design
Make reliable and repeatable voltage, current, and power measurements using automated power quality, switching loss, harmonics, ripple, modulation, and safe operating area measurements.
EMI Troubleshooting
Quickly determine which time domain signals may be causing unwanted EMI. See in real-time the effects time domain signals have on system EMI emissions.
Wireless Troubleshooting
The MDO4104C understands your wireless system's behavior. Capture an ultra-wide band in a single capture to view interactions among multiple wireless technologies.
Education
The integration of a spectrum analyzer enables teaching of advanced wireless technology course work while minimizing the investment required. Full upgradability enables adding functionality over time as needs change or budgets allow.
Manufacturing Test and Troubleshooting
The 1 GHz 6-in-1 MDO4104C minimizes rack or bench space by integrating multiple instruments into one small package. Integration reduces cost associated with utilizing multiple different instrument types in manufacturing test or troubleshooting stations.
Included with the MDO4104C: Front cover, accessory bag, installation and safety instructions, printed manual, documentation CD (includes OpenChoice® Desktop Software), power cord, and National Metrology Institute (ISO9001) calibration certificate. If configured with built-in spectrum analyzer, the MDO4104C also includes a N-to-BNC adapter. Probes included: four (4) TPP1000, 1 GHz bandwidth, 10X, 3.9 pF
6-in-1 Versatility PLUS High Performance in One Powerful Oscilloscope
4 analog channels; 16 optional additional digital channels
1 GHz, 500 MHz, 350 MHz, and 200 MHz bandwidth models. Bandwidth is upgradable to 1 GHz
Up to 5 GS/s sample rate
20 M record length on all channels
> 340,000 wfm/s maximum waveform capture rate
Standard passive voltage probes with 3.9 pF capacitive loading and 1 GHz or 500 MHz analog bandwidth
Unique optional Built-in 3 GHz or 6 GHz Spectrum Analyzer
Optional Arbitrary/Function Generator
Optional 16-channel Logic Analyzer w/ 20 M record length on all channels
Optional Protocol Analyzer
Digital Voltmeter/Frequency Counter – Free from Tektronix w/ registration
Upgradeability: Add analog bandwidth, spectrum analyzer, function generator, digital channels, or protocol analysis as needed
Three-year warranty (one year on probes)