Tektronix MSO3032 Mixed Signal Oscilloscope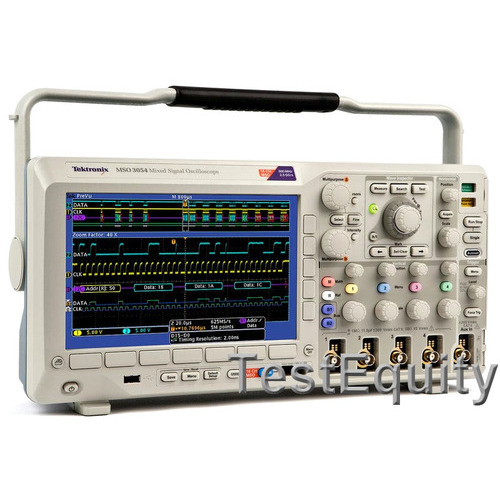 Brand:

Tektronix

Condition:

Used

Family Models:

DPO3000, MSO3000 Series
Feature-rich tools for debugging mixed signal designs
With the MSO/DPO3000 Mixed Signal Oscilloscope Series, you can analyze up to 20 analog and digital signals with a single instrument to quickly find and diagnose problems in complex designs. Bandwidths up to 500 MHz and a minimum of 5x oversampling on all channels ensure you have the performance you need for many of today's mainstream applications. To capture long windows of signal activity while maintaining fine timing resolution, the MSO/DPO3000 offers a deep record length of 5 Mpoints standard on all channels.
With Wave Inspector® controls for rapid waveform navigation, automated serial and parallel bus analysis, and automated power analysis — the MSO/DPO3000 Oscilloscope Series from Tektronix provides the feature-rich tools you need to simplify and speed debug of your complex design.
Serial Triggering and Analysis
From triggering on specific packet content to automatic decode in multiple data formats, the MSO/DPO3000 Series provides integrated support for the industry's broadest range of serial buses - I2C, SPI, CAN, LIN, RS-232/422/485/UART, and I2S/LJ/RJ/TDM.
The ability to decode up to two serial and/or parallel buses simultaneously means you gain insight into system-level problems quickly.
Mixed Signal Oscilloscopes (MSO Models)
To further help troubleshoot system-level interactions in complex embedded systems, the MSO3000 Series offers 16 digital channels in addition to its analog channels. Since the digital channels are fully integrated into the oscilloscope, you can trigger across all input channels, automatically time-correlating all analog, digital, and serial signals. The MagniVu™ high-speed acquisition enables you to acquire fine signal detail (up to 121.2 ps resolution) around the trigger point for precision measurements. MagniVu is essential for making accurate timing measurements for setup and hold measurements, clock delay, signal skew, and glitch characterization.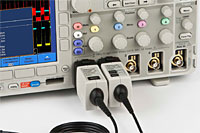 TekVPI – The New Standard for Ease of Probing
The TekVPI probe interface sets the standard for ease of use in probing. TekVPI probes feature status indicators and controls, as well as a probe menu button right on the comp box itself. This button brings up a probe menu on the oscilloscope display with all relevant settings and controls for the probe. The TekVPI interface enables direct attachment of current probes without requiring a separate power supply. TekVPI probes can be controlled remotely through USB, GPIB, or Ethernet, enabling more versatile solutions in ATE environments.
NOTE: These oscilloscopes only include passive probes. To get the most out of you new oscilloscope, be sure to order TekVPI Active Probes - see selection in the "OPTIONS & ACCESSORIES" tab above.
All Models Include: One P6139B 500 MHz, 10x Passive Probe per Analog Channel, Front Cover, User Manual, Documentation CD, OpenChoice® Desktop Software, NI LabVIEW SignalExpress™ Tektronix Edition LE Software, Calibration Certificate Documenting Traceability to National Meteorology Institute(s) and ISO9001 Quality System Registration, Power Cord, Accessory Pouch. MSO Models also Include: One P6316 16-channel logic probe and accessory kit, and Three-year Warranty.
DPO3000, MSO3000 Series Oscilloscopes
DPO3012
2-Ch | 100 MHz
MSO3012
2 + 16 Ch | 100 MHz
DPO3014
4-Ch | 100 MHz
MSO3014
4 + 16 Ch | 100 MHz
DPO3032
2-Ch | 300 MHz
MSO3032
2 + 16 Ch | 300 MHz
DPO3034
4-Ch | 300 MHz
MSO3034
4 + 16 Ch | 300 MHz
DPO3052
2-Ch | 500 MHz
MSO3054
4 + 16 Ch | 500 MHz
DPO3054
4-Ch | 500 MHz
500, 300, 100 MHz models, 2 or 4 channels
Mixed Signal Analysis with 16 Digital Channels (MSO Series)
Up to 2.5 GS/s on all channels
5 Meg record length on all channels
50,000 wfm/s max. waveform capture rate
Automated Serial Triggering, Decode, and Search Options for I2C, SPI, CAN, LIN, RS-232/422/485/UART, and I2S/LJ/RJ/TDM, FlexRay
Wave Inspector for unprecedented efficiency in waveform analysis
29 Automated Measurements and FFT Analysis
9" WVGA color display USB 2.0 for quick and easy storage
USB 2.0 device port for direct PC control using USBTMC
Built-in Ethernet port
TekVPI Probe Interface supports active, differential and current probes for automatic scaling and units
Only 5.8" deep and 9 lbs.