Tektronix MSO4104 Mixed Signal Oscilloscope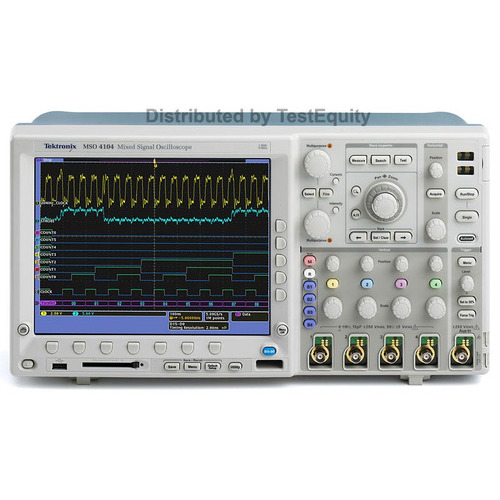 Brand:

Tektronix

Condition:

Used

Discontinued:

Yes
With the MSO4104 Mixed Signal Oscilloscope, you can analyze up to 20 analog and digital signals with a single instrument to quickly find and diagnose problems in complex designs. Bandwidths to 1 GHz and a minimum of 5x oversampling on all channels ensure you have the performance you need to see fast-changing signal details. To capture long windows of signal activity while maintaining fine timing resolution, the MSO4104 offers a deep record length of 10M points standard on all channels.
With Wave Inspector controls for rapid waveform navigation, automated serial and parallel bus analysis, and automated power analysis - the MSO4104 Oscilloscope from Tektronix provides the feature-rich tools you need to simplify and speed debug of your complex design.
The MSO4104 Mixed Signal Oscilloscope provides 16 digital channels. These channels are tightly integrated into the oscilloscope's user interface, simplifying operation and making it possible to solve mixed-signal issues easily.
1 GHz Bandwidth
4 + 16 Digital channels
Up to 5 GS/s on all channels
10 Meg Record length on all channels
35,000 wfm/s maximum waveform capture rate
Wave Inspector controls for unprecedented efficiency in waveform analysis
Optional I2C, SPI, CAN and RS-232 Serial triggering and analysis
10.4" XGA Color display
Only 5.4" Deep and 11 pounds
USB and CompactFlash on front panel for quick and easy storage
Plug-and-Play connectivity