Tektronix MSO58LP Low Profile MSO
Tektronix MSO58LP Low Profile MSO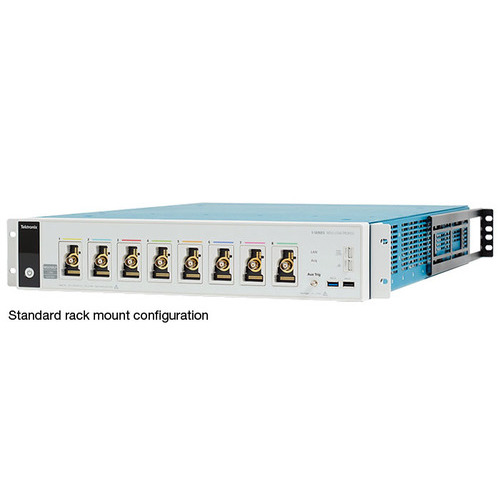 Product Features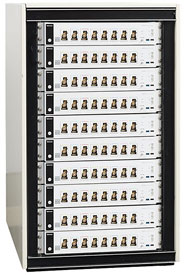 Multiple rack-installed MSO58LP oscilloscopes make efficient use of available space.
Based on the highly successful 5 Series MSO
The 5 Series MSO Low Profile is based on the 5 Series MSO benchtop platform. The benchtop 5 Series MSO has a remarkably innovative pinch-swipe-zoom touchscreen user interface, the industry's largest high-definition display, and 4, 6, or 8 FlexChannel™ inputs that let you measure one analog or eight digital signals per channel. The 5 Series MSO is ready for today's toughest challenges, and tomorrow's too. It sets a new standard for performance, analysis, and overall user experience.
Low-profile, high-density package saves space
The 5 Series MSO Low Profile has 8 FlexChannel inputs plus an auxiliary trigger input in a space-saving 2U high package designed to fit into 19-inch wide racks. The instrument has side air vents so that instruments can be mounted in a rack directly on top of one another, saving even more space.
More system visibility in less rack space
Like the benchtop 5 Series MSO, the low profile instrument offers FlexChannel inputs, an optional arbitrary/function generator output, and a built-in digital voltmeter and trigger frequency counter. And, if you plug in an external touch-capable monitor you can experience the same revolutionary pinch-swipe-zoom user experience as if you were in front of the benchtop 5 Series MSO.
Never let a lack of channels slow down your verification and debug process again
With eight FlexChannels, you can configure the MSO58LP to look at eight analog and zero digital signals. Or seven analog and eight digital. Or six analog and 16 digital, five analog and 24 digital and so on. You can change the configuration at any time by simply adding or removing TLP058 logic probes, so you always have the right number of digital channels.
Experience the performance difference
With 1 GHz analog bandwidth, 6.25 GS/s sample rate, 125 M record length, and 12-bit analog to digital converters (ADCs), the 5 Series MSO Low Profile has the performance you need to capture accurate waveform data with the best possible signal integrity and vertical resolution for seeing small waveform details.
Remote operation to speed automated test
IVI-COM 5, IVI-C 6, and LabVIEW 5 instrument drivers are available for free and enable easy communication with the oscilloscope using LAN or USBTMC connections from an external PC. A full set of programmatic commands to setup and control the instrument remotely enable easy test automation.
Quickly transition from the lab to manufacturing
The 5 Series MSO Low Profile is based on the successful 5 Series MSO platform. This means you can use the MSO54, MSO56, or MSO58 with their beautiful 15.6-in touch display and full measurement analysis capabilities during the development process. Then, when you are ready to transition your product to manufacturing, you can use the same software and test routines developed during R&D in your manufacturing test application, saving time and rack space.
Attached rackmount hardware included. 1 GHz bandwidth and 125 M Sample record length are standard.
1 GHz
8 FlexChannels
Sample rate: 6.25 GS/s
Record length: 125 M
Waveform Capture Rate: > 500,000 wfms/s
ADC Resolution: 12 bits
Effective Number of Bits (ENOB): 7.6 bits @ 1 GHz with High Res
Arbitrary/Function Generator: Up to 50 MHz (Opt.)
DVM & Trigger Freq. Counter: Free w/ product registration
3.5 inches, 88.9 mm / Stand-alone 19" (2U) rack mount (included)
Certificate of Traceable Calibration
Three-year warranty