Tektronix P5200A Active Differential Probe
Tektronix P5200A Active Differential Probe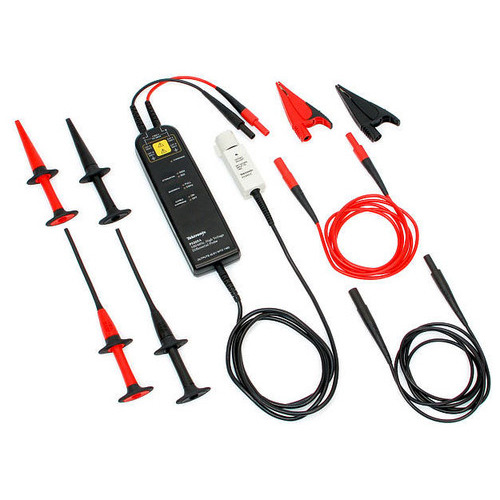 Manufacturer:

Tektronix

Condition:

Used
1.3 kV Differential
1 kV to Ground (Each Channel)
50 MHz Bandwidth
50X / 500X Attenuation

IEC 1010 Certified
No More Floating Your Scope Unsafely
Excellent Signal Fidelity
Easy Connection to ICs and Bus Bars
Safe for User and DUT
Powered From 9 VDC Wall Adapter

The P5200A replaces the P5200. Bandwidth is increased from 25 MHz to 50 MHz.

The P5200A can be used with any oscilloscope and enables users to safely make measurements of floating circuits with their oscilloscope grounded. The P5200A Active Differential Probe converts floating signals to low-voltage ground-referenced signals that can be displayed safely and easily on any ground-referenced oscilloscope.

WARNING: For safe operation, do not use the P5200A High-voltage Differential Probe with oscilloscopes that have floating inputs (isolated inputs), such as the Tektronix TPS2000 Series oscilloscopes. The P5200A High-voltage Differential Probe requires an oscilloscope or other measurement instrument with grounded inputs.

Consider purchasing the new TMDP0200, THDP0200, and THDP0100 high voltage differential probes. They are equipped with the TekVPI Probe Interface, have double the bandwidth of P52xxA probes, and do not require the TPA-BNC adapter.