Tektronix P5210A High Voltage Differential Probe
Tektronix P5210A High Voltage Differential Probe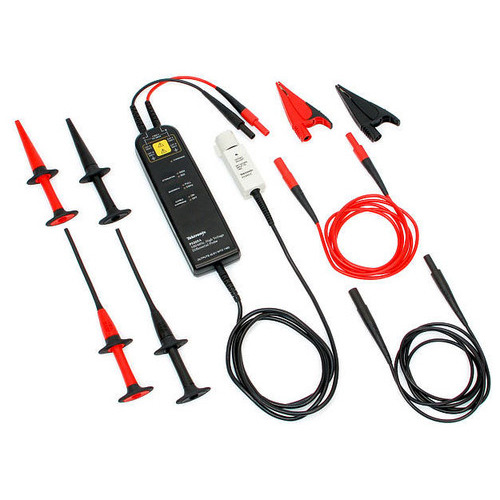 Manufacturer:

Tektronix

Condition:

New

Option Parent Model:

TPS2012B, TPS2014B, TPS2024B
The P5210A is a Differential Probe that is capable of measuring floating voltages up to 5,600 V (DC + pk AC) safely and has a bandwidth up to 50 MHz. It is supplied with two sizes of hook tips and has an overrange visual and audible indicator which warns the user when they are exceeding the linear range of the probe.
Can be used with Tektronix TekProbe interface oscilloscopes directly or with any oscilloscope with the use of the 1103 TekProbe Power Supply.
TDS7154B, TDS7254B, TDS7404B, TDS6404, TDS6604, CSA7154, and CSA7404B require a TCA-1MEG Buffer Amplifier.
Consider purchasing the new TMDP0200, THDP0200, and THDP0100 high voltage differential probes. They are equipped with the TekVPI Probe Interface, have double the bandwidth of P52xxA probes, and do not require the TPA-BNC adapter.
Maximum Differential Input Voltage 5.6 kV (DC + peak AC)
50 MHz Bandwidth
100X/1000X Attenuation
Probe Connects Directly to TDS Scope through TekProbe Interface
Double Insulated Probe Head
Easy Connection to Power Devices, Discrete Components, and Bus Bars
Make Safe Floating Measurements with Grounded Scope
Safety Certified