Tektronix P6150 Low Impedance Passive Voltage Probe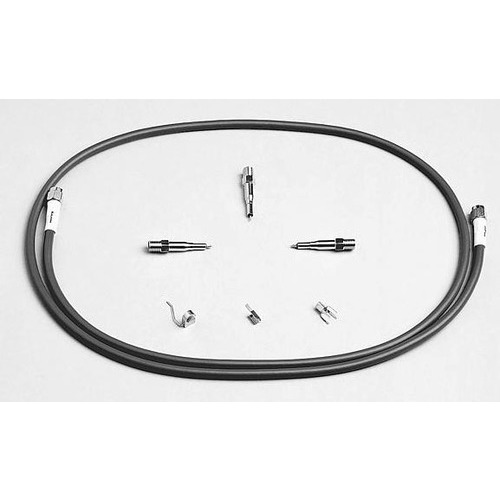 Brand:

Tektronix

Condition:

New
The P6150 is a 9 GHz bandwidth, 10X attenuation, low impedance probe designed for use with the SD2X family of Sampling/TDR plug-ins. The probe consists of interchangeable, screw-in attenuator tip assemblies (1X and 10X) and an SMA-to-SMA probe cable. An assortment of circuit and grounding attachments is included to optimize attachment to the device under test while maintaining high signal integrity.
Tektronix P6150 50 Ohm Divider Probe
Model
BW -3dB
(MHz)
Input R
Ohms
Input C
pF
Max V
(Dc+pkAC)
Comp. Range
pF
Cable
Length
(Meters)
Tip / Head
Style
P6150
1X: 3 GHz

10X: 9 GHz
50

500
N/A

0.15
12.5 V RMS*2
50 ohm
input required
1.0
4mm
Recommended Instruments
TDS8000, CSA8000, TDS820, 11801C, CSA803C, TDS7404, CSA7404, TDS6404, and TDS6604 with TCA-SMA adapter.
Low Impedance Zo TDR Passive Probe
Low Capacitive Loading to Extremely High Frequencies
Interchangeable Attenuator Tip Assemblies: 1X, 10X
High-speed Device Characterization in Microwave Communication, Signal Processing and Logic Applications
Propagation Delays for ECL, GaAs and Other Logic Circuitry and Devices
Circuit Board Impedance Testing (TDR)
High-speed Sampling Systems
1 Year Warranty