Tektronix P80318 TDR Probe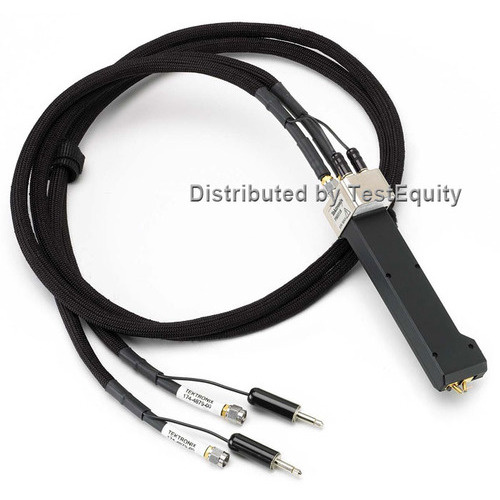 Brand:

Tektronix

Condition:

Rental

Family Models:

P80318, P80318X
The P80318 is an 18 GHz 100 Ω input impedance differential TDR hand probe. This probe enables high-fidelity impedance measurements of differential transmission lines. The adjustable probe pitch enables a wide variety of differential line spacing and impedances. The P80318 probe also includes two precision SMA cables with parallel control lines that provide the 80A02 the control for EOS/ESD protection. The P80318 includes: 18 GHz bandwidth, 50 Ω odd mode input impedance (100 Ω differential impedance), differential passive handheld probe w
The P6248, P6247 and P6246 enable users to make time domain or frequency domain measurements on high bandwidth signals commonly found in disk drive, digital IC design (RAMBUS) and communication applications (Gigabit Ethernet, IEEE-1394 Firewire and Fibre Channel). The P6248 includes accessories that allow RAMBUS via probing and IEEE-1394 interconnect access. The small probe head geometry and assorted probe tip accessories allow these probes to easily accommodate manual probing of surface mount devices while maintaining high CMRR.
The P6246, P6247 and P6248 are ideal for design verification of disk drive read channel electronics and timing analysis for troubleshooting ground bounce problems associated with high speed logic. They can also be used for pulse shape or cross talk compliance testing of high speed communication signals.
Included Accessories
Product
P6246/P6247 Quantity
P6248 Quantity
Y Lead Adapter
2 each
2 each
3 in. Ground Lead
none
4 each
6 in. Ground Lead
2 each
2 each
SMT KlipChip™
Adapter
3 each
4 each
BNC to Probe Tip
Adapter
1 each
1 each
TwinFoot™
Adapter
2 each
4 each
TwinTip™ Adapter
2 each
4 each
Short Ground
Contact
2 each
10 each
Spring Loaded
Ground
2 each
6 each
Probe Tip
Connector Saver
none
2 each
Longhorn Via
Adapter
none
5 each
VariTip™ Adapter
none
8 each
Straight Tip
none
8 each
Color Coding Clips
(2 each of 5 colors)
1 each
1 each
Certificate of
Traceability
1 each
1 each
ith one set of two precision SMA cables, soft storage case, user's manual, and three replaceable ground shorting straps.
The P80318X is designed for high-volume PCB impedance test applications. These applications require maximum manufacturing up-time. The P80318X includes everything in a P80318 plus a second probe body for use if the first probe body needs to be serviced due to normal wear.
The P80318 probe can be used as a stand-alone high-resolution probe, but it is specially designed to be used with two 80A02 EOS/ESD Protection modules. To maximize testing up-time and minimize repair costs, protecting the sampling module from static damage is a requirement. Damage to the sampling module is typically due to electro-overstress (EOS) and electrostatic discharge (ESD) from large static charges stored in the DUT. Use of two 80A02 modules ensures proper probe grounding prior to switching signal to the sampling module.
Features & Benefits
18 GHz Bandwidth
Direct In-circuit TDR Testing
Reliable and Repeatable Resolution of Impedance Variations to 0.12 in.
Adjustable Probe Pitch from 0.5 mm to 4.2 mm
Probing of Fully Balanced Differential Signals without Ground Contact
Double-cushioning Design enables Probe Tips to Maintain Proper DUT Contact
Protects Sampling Module from Static Damage when used with Two 80A02 Modules
Applications
Circuit-board Controlled Impedance Testing (TDR)
Loss Tangent Measurements for Differential Transmission Lines
Failure Analysis of PCB with or without Components Mounted
Package Impedance Testing (TDR)