Tektronix PA1000 Single Phase Power Analyzer
Tektronix PA1000 Single Phase Power Analyzer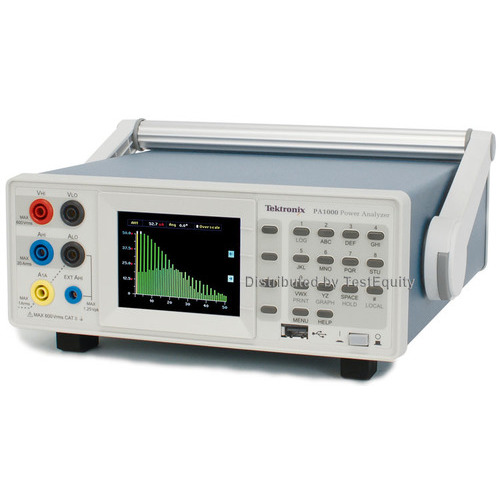 Manufacturer:

Tektronix

Condition:

New
Accurate, Versatile and Affordable
The Tektronix PA1000 is a single-phase, single-channel power analysis solution that is optimized for fast, efficient, and accurate power consumption testing to international standards; and will become your "go-to instrument" for making precision power measurements on single-phase power supplies and all types of products connected to the AC line.
Its compact size, DMM-like user-interface, graphical display, and powerful software enable you to quickly visualize, analyze, and document the power consumption efficiency of next-generation devices, including standby power measurements and harmonic analysis. Whether you need to test for compliance with energy-usage regulations such as Energy Star™, or simply need to characterize your product's overall power-conversion performance and efficiency, you'll find the PA1000 offers the most modern and complete test solution with performance and features unmatched by other single-phase analyzers.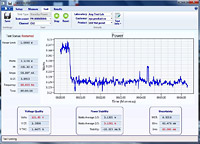 Full compliance test screen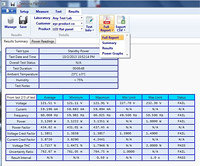 Test results report
PWRVIEW PC software
PWRVIEW is a supporting software application for Windows PCs that compliments and extends the functionality of the PA1000. PWRVIEW enables you to do the following:
Communicate with the PA1000 over any of the instrument comm ports
Change instrument settings remotely
Transfer, view, and save measurement data in real-time from the instrument, including waveforms, harmonic bar charts, and plots
Log measurement data over a period of time
Communicate with and download data from multiple PA1000 instruments
Create formulae for the calculation of power conversion efficiency and other values
Export measurement data to .csv format for import into other applications
Automate instrument setup, data collection, and report generation for key applications with just a few clicks, using wizard-driven interfaces
Perform automated full compliance testing for Low Power Standby per IEC 62301, Edition 2
Additional test automation will be added with future releases
Application-specific test modes
Some applications require special instrument settings to ensure proper measurements. The PA1000 simplifies setup for these applications by automatically choosing instrument settings and parameters that are optimized for each type of measurement application, resulting in more reliable measurement results with less opportunity for user setup error.
Ballast mode – synchronizes measurements for highly modulated electronic ballast waveforms
Standby power mode – provides continuous sampling of voltage and current to produce an accurate Watts measurement over the user specified period
Inrush mode – measures the peak current during any event
Integrator mode – provides measurements for determining energy consumption (Watt-hours, Ampere-hours, etc.)
Standard harmonics analysis
The PA1000 features IEC 61000-3-2 / 4-7 pre-compliance harmonic analysis to the 50th harmonic as a standard feature. Harmonics, THD and related measurements can all be analyzed simultaneously with other power parameters.
Key applications include compliance testing for power, energy efficiency, standby power, and harmonics measurements for:
Power supply and UPS
LED drivers / lighting
Wireless charging
Consumer electronics
Home appliances
Computers and IT equipment
Inverters and converters
Battery chargers

The color graphics display on the PA1000 provides intuitive readout of measured values, harmonic bar charts, waveforms, energy integration plots, and more.
Includes: voltage lead set, power cord, USB host-to-device interface cable, documentation CD, certificate of calibration, USB, Ethernet and GPIB communication ports, plus a front-mounted USB port for data logging to a flash drive.
0.04% basic voltage and current accuracy
1 V to 600 Vrms (Cat II) voltage input
1 MHz bandwidth / 1 MS/s sample rate for demanding test requirements
20 μA to 20 Arms current input
Dual internal current shunts maintain best resolution & accuracy at all current levels
5 mW standby power measurements to IEC 62301
Color Graphics Display
Two Current Shunts
Application-specific test modes simplify setup
Easy data export to USB flash drive or PC software
USB, LAN and GPIB standard
IEC 61000-3-2 / 4-7 pre-compliance harmonic analysis and communications ports standard features
Three-year warranty