Tektronix SA2500 Real-time Spectrum Analyzer
Tektronix SA2500 Real-time Spectrum Analyzer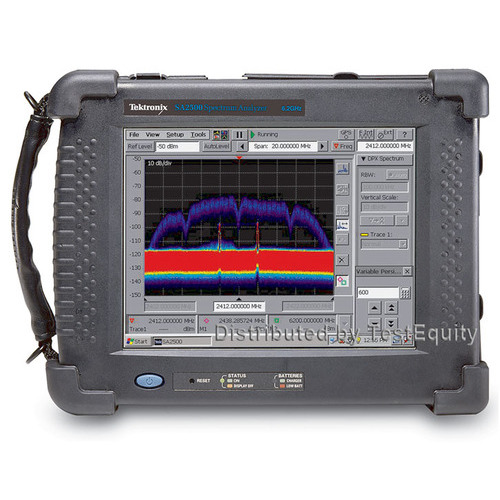 Manufacturer:

Tektronix

Condition:

Rental
Tektronix SA2500 Handheld Real Time Spectrum Analyzer with DPX™ Live RF spectrum display of 500 μs minimum signal duration for 100% Probability of Intercept (POI) and signal classification capability.
The SA2500 will help you to easily scan, classify and locate signals of interest in the field environment. Scan the environment to discover spectrum events other analyzers will miss, when using the unique DPX® Live RF spectrum display. Classify signals of interest with the built-in, user-defined signal database. Locate signals quickly using the integrated GPS mapping solution. The ruggedized design, with a hot swappable battery, is optimized to help you in the toughest of environments.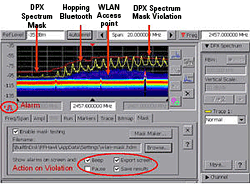 DPX Spectrum Mask captures and logs spectrum violations and can alert w/alarm, pause test, export screen and save results. Please see Data Sheet for additional illustrations.
Interference troubleshooting has never been so easy.
By scanning the RF spectrum users can spot which signal emitters are in the area. Signals with significant power are usually candidates for further analysis, as are signals that are present infrequently. By color-coding events based on the rate of occurrence, the DPX™ Live RF spectrum display provides unparalleled insight into the behavior of signals. Performing 10,000 spectrum updates per second, transients as brief as 125 μs can be "frozen" in the frequency domain. This offers tremendous improvement over swept analysis techniques.
The SA2500 with Option EP2 offers expert systems guidance to aid the user in classifying signals. It provides graphical tools that allow users to quickly create a spectral region of interest, enabling users to identify and sort signals efficiently. The spectral profile mask, when overlaid on top of a trace, provides signal shape guidance while frequency, bandwidth, channel number, and location are displayed allowing for quick checks.
Once the signal has been identified as a threat, the SA2500 provides various field-proven signal hunting tools to locate the offending signals. For the easier-to-find signals, the signal strength meter produces tones that vary with pitch as a function of the strength of this signal. This allows the operator to look for signals while watching their surroundings, not the screen. For signals that are harder to find, such as signals influenced by multipath, fading, low signal strength, etc, the SA2500 provides several signal mapping tools to facilitate hunting for these signals
Applications
Spectrum Management
Spectrum Monitoring and Surveillance
Interference Detection and Troubleshooting
Signal Hunting
Signal Identification
Signals Intelligence (SIGINT)
Homeland Security
Includes: User Manual (in PDF format), Installation Software, AC Power Adapter, Lithium-ion Battery, GPS Antenna, Flexible monopole antenna, Type-N (m) to BNC (f) adapter, USB A-B cable, Tilt Stand, Soft Carry Case, and Audio Jack Mute Plug (mute all audio output from the instrument speaker).
Operating Frequency Range: 10 kHz to 6.2 GHz 500 μs minimum signal duration Revolutionary DPX Live RF spectrum display technology with DPX Spectrum Mask provides intuitive understanding of live RF signals Benchtop spectrum analyzer performance in a ruggedized (MIL-PRF-28800F) handheld battery-operated field unit Supports WLAN, GSM, W-CDMA, CDMA, ATSC Exports I/Q data into CSV, MATLAB®, and IQT format Hunt outdoor signals with built-in GPS receiver, and in-building signals with Tap-and-Walk-and-Tap interface Backlit display, viewable in direct sunlight Hot-swappable dual batteries One-year warranty