Tektronix SigExpTE NI LabVIEW Signal Express TE Professional Edition
Tektronix SigExpTE NI LabVIEW Signal Express TE Professional Edition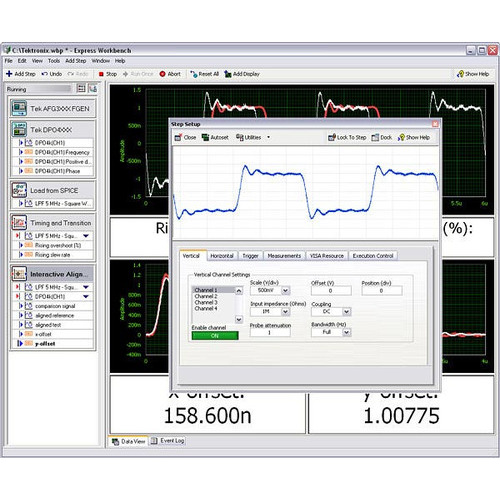 Manufacturer:

Tektronix

Condition:

Used
Provides Instrument Control for the DPO/DSA70000, MSO70000, DPO7000, MSO/DPO4000, MSO/DPO3000, MSO/DPO2000, TDS3000, TDS2000, and TDS1000 Series Oscilloscopes, AFG3000 Series Arbitrary/Function Generators, DMM4000 Series Multimeters, PWS4000 Series Power Supplies, and FCA/MCA3000 Series Timer/Counters
Quickly Start Measuring with an Intuitive Drag-and-Drop Interface that Does Not Require Any Programming
Measurement Trending
Data Logging
Advanced Analysis and Documentation Capabilities
Quickly and Easily Import Simulated Results and Compare against Actual Measured Results Live on the Screen
Automatic Frequency Sweeping
Limit Testing
Connect and Control Multiple Instruments from within One Software Environment
Discontinued.
Increase Your Productivity with the Industry's Most Seamless Instrument-to-PC Connectivity Solution
Configuring test instruments to connect with PC-based software is often a difficult and frustrating challenge. That's why Tektronix and National Instruments have partnered together to create NI LabVIEW SignalExpress Tektronix Edition (TE) - interactive measurement and analysis software designed for design and test engineers who need to quickly acquire, analyze and document measurements without the added complication of programming.
USB Plug-and-Play
With USB plug-and-play support, NI LabVIEW SignalExpress TE immediately detects and configures Tektronix instruments when connected to a PC, providing a live view of the data acquisition and immediate control of the oscilloscope. See data sheet for compatibility information.
Import and Compare
Integrate measurements with simulated results from popular design software tools such as PSpice, SPICE, and Multisim. This enables quick and easy importing and comparing of simulated results - saving time and improving design accuracy.
Capture and Document
Quickly capture and document measurements by simply dragging-anddropping acquired data and waveform captures directly into Microsoft Excel, Word, Outlook, PowerPoint, and WordPad. Or annotate waveforms and measurements in the interactive project documentation tool.
Advanced Analysis
NI LabVIEW SignalExpress TE contains more than 200 different measurement, processing, analysis, and reporting capabilities that can be applied to data being acquired from Tektronix instruments.
Automated Measurements
Take advantage of several major timesaving features, including automated measurement sweeping and limit testing. These features provide relief from a traditionally manual and timeintensive process.
Connect and Control
Remove the guesswork when connecting your test instrument to a PC by connecting and controlling multiple instruments from one software environment, all within a single drag-and-drop user interface.
SigExpTE
The LE version of NI LabVIEW SignalExpress TE comes standard with the MSO/DPO4000, MSO/DPO3000, MSO/DPO2000, TDS3000C, TDS2000B, and TDS1000B Series oscilloscopes, and the DMM4000 Series multimeters. SIGEXPTE adds extended analysis capabilities.
Note: Compatible with the MSO/DPO4000, MSO/DPO3000, MSO/DPO2000, TDS2000B, and TDS1000B Series oscilloscopes and the AFG3000 Series Arbitrary/Function Generator. Requires Microsoft Windows XP/2K or newer operating system. See data sheet for complete compatibility information.