Tektronix TBS1152B-EDU Digital Storage Oscilloscope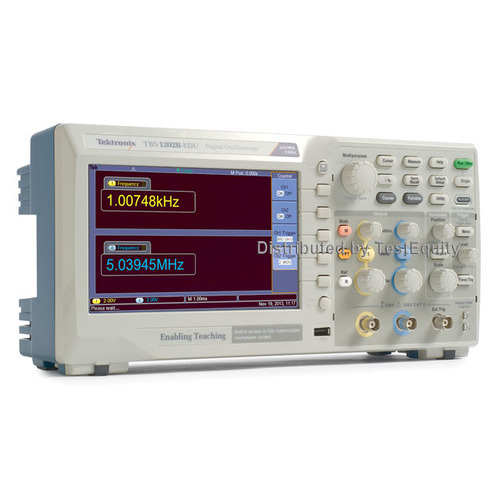 Brand:

Tektronix

Condition:

New

Bandwidth:

150 MHz
2-channels, 150 MHz
Up to 2 GS/s sample rate on all channels
2.5k point record length on all channels
Advanced triggers including pulse and line-selectable video triggers
7 inch WVGA (800 X 480) Active TFT Color Display
New affordable 50 MHz TPP0051 passive probes
Dual window FFT, simultaneously monitors time and frequency domains
Integrated Courseware feature
Front panel USB Host Port / Rear panel USB Device Port
Small footprint and lightweight - 4.9 in. (124 mm) deep and 4.4 lb. (2 kg)
Dual channel frequency counter
Zoom Function
Autoset and auto-ranging functions
34 automated measurements
Multiple-language user interface
Five-year warranty
The world's first dedicated teaching oscilloscope
The TBS1000B-EDU Digital Storage Oscilloscope Series is designed specifically to meet the needs of today's schools and universities. It's the first oscilloscope to use an innovative new Courseware system that enables educators to seamlessly integrate teaching materials onto TBS1000-EDU oscilloscopes. The Courseware information is presented directly on the oscilloscope display and can be used to provide; step by step instructions, background theory, hints and tips or an efficient way for students to document their lab work. The instrument includes a 7-inch WVGA TFT color display, up to 2 GS/s sampling rate, bandwidths from 50 MHz to 200 MHz, dual channel frequency counters and a 5-year standard warranty, just a few of the features that make the TBS1000B-EDU the industry's best-value entry-level oscilloscope for educational activities.
Seeing signal details
To properly analyze signals you need to make sure that you can see them in enough detail. The TBS1000B-EDU comes standard with a 7-inch high resolution TFT display for a clear view of all of your signals and critical on screen information. The instrument is further enhanced by a user interface inspired by the award winning Tektronix MSO/DPO series of instruments. The interface is easy to use, provides quick access to all of the oscilloscope functions and includes a high resolution "Pan & Zoom" feature enabling you to see even more signal details of up to 10 times normal resolution.
Digital precision for accurate measurements
With up to 200 MHz bandwidth, 2 GS/s maximum sample rate and 3% vertical measurement accuracy the TBS1000B-EDU allows you to see all of your signals details. With the Tektronix proprietary sampling technology there are no compromises, you will get the stated real-time sampling rate on all channels, all the time with at least 10X oversampling. The sampling performance is not reduced when changing horizontal settings or when using multiple channels, enabling you to see the true characteristics of your signals.
Critical tools for troubleshooting your device
The TBS1000B-EDU oscilloscope enables students to learn about the advanced triggers used to debug today's complex circuitry. Standard rising or falling edge, pulse width and video trigger set-ups will allow students to quickly isolate signals of interest and investigate alternative triggering options using the flexible trigger set-up menus. Once signals are captured, the TBS1000B-EDU offers advanced math and measurement capabilities making it easy to evaluate signal quality. Users can quickly add, subtract and multiply waveforms or use any one of 34 automated measurements to quickly and reliably calculate important signal characteristics such as frequency, rise time or overshoot.
Courseware feature
The innovative Courseware feature sets up an education ecosystem by combining powerful PC Course Editor software with the TBS1000B-EDU instruments and a Courseware landing page. The new feature gives educators the ability to create lab descriptions and instructions and then upload the material directly onto a TBS1000-EDU oscilloscope. Existing labs can be modified with content that directly supports recent lectures or explores new ideas discovered in class discussions. Students can perform their lab work directly on the oscilloscope and record their progress in a report file consisting of oscilloscope screen captures. Courseware materials can easily be shared between different labs, professors at the same institution or even between educators from around the world. The Tektronix Courseware Web Page is set up to make it easy for educators to share their own course material or get inspired by reviewing new and interesting ideas from their peers.
PC Course Editor software
It all starts with the PC Courseware editor tool. This Windows based application provides the framework in which the courseware is developed. With simple Windows tools instructors can create new labs or edit existing labs using text, images, formulas or tables. A profile signature can also be created that identifies the professor, class or school. The basic building block of the Courseware content is the Lab section. An overview, equipment set-ups, theory discussions and step by step instructions can all be included in this section. When the labs are completed a course can be created. In general, a course is made up of several labs with related topics, for example a basic digital course may consist of lab topics that include; "Basic Boolean Logic", "Simple AND & OR Gates", "Clocks", "Metastable Devices", "Memory Devices", etc. Individual Labs can be shared among multiple courses enabling professors to cater course material to a specific audience. Once all of the courses are defined a package/workspace file is created which contains all of the courses with their related labs and enables the content to be uploaded onto a TBS1000-EDU oscilloscope. To accommodate regional differences the Courseware PC software and the help wizard support is available in 11 different languages.
The oscilloscope courseware features
When the workspace file is loaded onto an instrument, students can easily access the content by using the dedicated "Course" button located on the front panel. Using the oscilloscopes soft keys and the multipurpose knob, students can access up to 8 courses which can have up to 30 labs each. To accommodate situations where and instrument is used for several classes, up to 100 MB of course material can be stored on the oscilloscope. Once a lab is chosen, the student is able to review the overview section, perform the lab using the step-by-step procedure, collect data, check & save the data results and generate reports that show the waveforms created for each step in the procedure. And all of this work can be done directly on the oscilloscope.
Innovative Courseware Functionality:
Lab content can be loaded directly onto the oscilloscope
Students review lab content, perform step-by-step instructions, record results and create reports, all on the scope
web-based content eco-system* utilizes courseware web page created to promote sharing of lab content
Users can search, download, upload and comment on lab material
"Auto-set Enable/disable" functionality Insures that students take the time to learn an oscilloscope's basic operation
Courseware Eco-System: Course Editor Software, Courseware Webpage, TBS1000B-EDU Oscilloscope
The courseware eco-system assists professors:

Engineering professors can quickly create or update exercises and distribute the material using the oscilloscope
Up to 8 courses, each with multiple labs, can be uploaded onto the scope
A Tektronix courseware web page has been created to offer a global platform where academicians can share lab experiments and ideas

The courseware eco-system assists students

Students can review, perform and document lab experiments right on the scope
Easily accessed, step-by-step instructions for lab experiments, progress can be documented on the scope
Creates HTML lab reports which simplifies the submission and review process and supports a paperless lab
Includes: Two (2) passive probes (TPP0201: 200 MHz for TBS1152B-EDU), power cord, printed installation and safety manuals, and additional documentation on CD.