Tektronix TBS2102 Digital Storage Oscilloscope
Tektronix TBS2102 Digital Storage Oscilloscope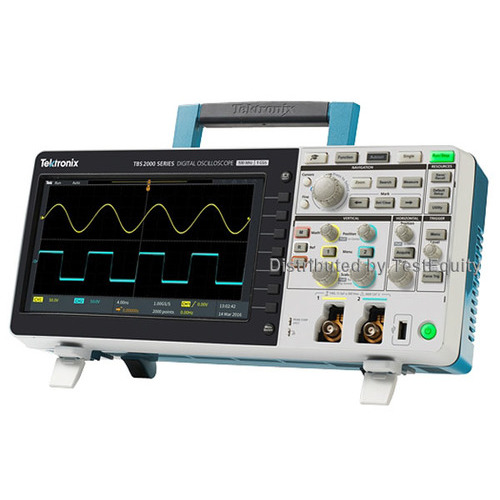 Condition:

New

Manufacturer:

Tektronix
Innovate more. Easier than ever before.
With 100 MHz bandwidth, a 9-inch WVGA display, 20 million point record length and 1 GS/s sample rate, The four-channel TBS2104 captures and display significantly more signal to help you evaluate designs faster. Easily and confidently analyze your signals with new on-waveform cursor readouts and 32 automated measurements, each with informative tips to help you quickly choose the right one. The TekVPI® probe interface works with traditional BNC connections, but also enables wide application coverage with the latest active voltage probes and current probes.
Designed to make your work easier
The TBS2104 is designed for easy operation and quick hands-on learning. Dedicated controls provide quick access to important settings, so you can evaluate signals faster. Many oscilloscopes provide 8 vertical divisions and 10 horizontal divisions, but the TBS2104 gives you 10 vertical divisions and 15 horizontal divisions, so you can see more of your signal. The display also offers more room for measurement results and menu information.
A powerful learning tool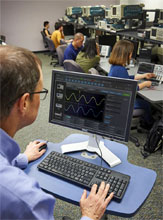 The TBS2104 is easily integrated into Tektronix SmartLab System.
Students can take a hands-on approach to learning engineering fundamentals with features such as the built-in Scope Intro handbook. Professors will rely on TekSmart Lab™ network software to setup and monitor instruments while Courseware function allows loading lab information into the TBS2104, and offers distinctive new ways to enable educators to devote more time to teaching circuit concepts instead of lab setup and management. The integrated Courseware function allows professors to load lab exercises on the instrument to give students guidance at each station, and provides a structured framework into which students can capture data to incorporate into their reports. Over 100 sample lab exercises are available for download from the Tektronix Courseware Resource Center.

TekVPI™ Interface and active probe support
The TekVPI probe interface sets the standard for ease of use in probing. With this interface the TBS2104 supports a wide range of the latest voltage and current probes, providing coverage for many applications. These probes are powered by and communicate with the TBS2104 through the interface. Scale factors and status information, such as error conditions, are sent to the instrument for processing and display. This saves you from having to manually set scale factors, calculate offsets, or monitor for open jaw conditions or the need to degauss your current probes.
The basic scope that delivers more.
2 channels, 100 MHz bandwidth
Up to 1 GS/s sampling rate
20 M record length on all channels
9-inch WVGA color display
15 horizontal grids show 50% more signal
TekVPI probe interface supports active, differential, and current probes with automatic scaling and units
32 automated measurements, and FFT function for thorough waveform analysis
USB 2.0 ports on the front and rear panels
LXI compliant 10/100BASE-T Ethernet port for remote control over LAN
Built-in lab courseware support
Network-based TekSmartLab software supported
Five-year warranty (probes excluded)