Tektronix TCA75 TekConnect-to-75 Ohm BNC
Tektronix TCA75 TekConnect-to-75 Ohm BNC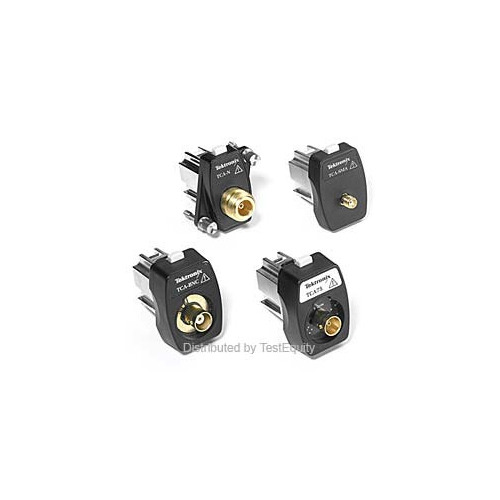 Manufacturer:

Tektronix

Condition:

New
TekConnect TCA Series Adapters Expand the Functionality of Tektronix High-performance Oscilloscopes
This family of adapter systems provides less signal distortion and better performance than traditional connections used to move a signal from one environment to another, such as BNC to N or BNC to SMA.
TCA75 Adapter (75 to 50 Ω)
The TCA75 adapter allows Tektronix oscilloscopes with TekConnect interface to easily access and measure 75 Ω terminated circuitry. The TCA75's attenuation factor is automatically corrected to provide the end user with correctly displayed signal magnitudes.
TCA-BNC Adapter (50 Ω only)
A direct 50 Ω input with TEKPROBE BNC 50 Ω capability, this adapter may be used as a direct 50 Ω BNC input or with Tektronix high-speed active and differential probes requiring the TEKPROBE BNC 50 Ω interface.
TCA-SMA and TCA-N Adapters (50 Ω only)
The high-speed SMA and N type adapters allow a more direct connection to the signal under test requiring N or SMA connections without losing performance by adding other external conversion adapters.
TCA75 - TekConnect-to-75 Ω BNC

DC to 4 GHz (Instrument Dependent)
VSWR - 1.1:1 (26.45 dB)
75 Ω Input
Auto Attenuation Factor Correction

TCA-BNC - TekConnect-to-TEKPROBE™ BNC 50 Ω

DC to 4 GHz (Instrument Dependent)
50 Ω Input (Only)
Probe Control TEKPROBE BNC (50 Ω)

TCA-SMA - TekConnect-to-SMA

DC to 18 GHz (Instrument Dependent)
50 Ω Input (Only)

TCA-N - TekConnect-to-N

DC to 11 GHz (Instrument Dependent)
50 Ω Input (Only)