Tektronix TCPA400 AC/DC Current Probe
Tektronix TCPA400 AC/DC Current Probe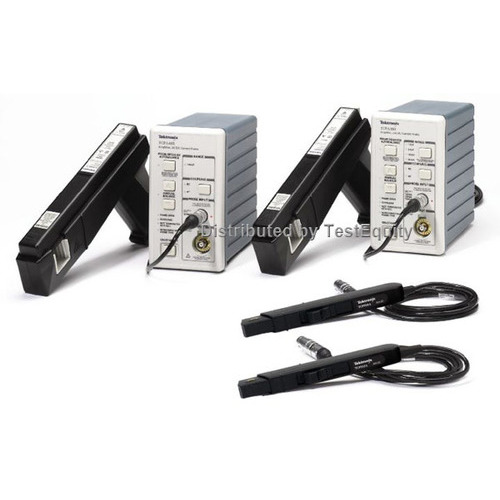 Manufacturer:

Tektronix

Condition:

New
Applications
Development and Analysis Solutions for Designers, Installers, and Service Personnel in Telecomm, Data Comm, Computer, and Semiconductor Power Electronics Environments for:

Power Supplies (Switching and Linear)
Semiconductor Devices (SCRs, IGBTs, MOSFETs, CMOS, BJTs)
Power Inverters/Converters
Electronic Ballasts
Industrial/Consumer Electronics
Mobile Communications (Phone, Satellite, Relay Stations)
Motor Drives
Transportation Systems (Electronic Vehicles, Electric Trains, Locomotives, Avionics)
Increased Performance and Simplicity
The TCP300 and TCP400 Series AC/DC current measurement family is a highly advanced current measurement system for today's current measurement needs. When connected to Tektronix oscilloscopes with TEKPROBE Level II, TekConnect (w/ TCA-BNC), or TekVPI (w/ TPA-BNC) interfaces, current measurements and calculations are simple and easy.
*1 Derated with duty cycle.
*2 Requires a TDS TEKPROBE oscilloscope or a TekConnect oscilloscope with TCA-BNC.
Meets Today's AC/DC Current Measurement Applications
The TCPA300 amplifier, when used with TCP312, TCP312A, TCP305, TCP305A or TCP303 probes, provides a wide range of current measurement capability and spans the gap between low-level milliamp measurements to very high current levels. These three probes provide current measurement capabilities of 30 A, 50 A, and 150 A DC continuous. For even higher current levels, the TCPA400 amplifier with the TCP404XL current probe measures 500 A DC continuous and 750 A DC continuous, derated with duty cycle.
Higher frequency performance is available with the TCP312 w/TCPA300 providing ≥100 MHz bandwidth and a maximum current of 30 A DC.
Measurement Errors and Manual Calculations are Now a Thing of the Past
With this new series of current measurement tools, automatic control and on-screen scaling and units is provided for users of Tektronix TDS3000, TDS500, TDS600, TDS700, TDS5000, TDS6000, and TDS7000B Series oscilloscope systems (the DPO3000, DPO4000, and DPO7000 Series oscilloscopes, the TPA-BNC adapter is required).
The TCP300/TCP400 current measurement systems seamlessly integrate with your TDS Series oscilloscope.
Even non-TEKPROBE systems can use the TCPA300/400 Series to make proper current measurements by simply multiplying the measured output voltage on the oscilloscope by the TCPA300/400 Series range setting.
Silver Care Packages
5 Years of Complete Service Coverage
Probes include: Nylon carrying case, probe ground lead, and instruction sheet.
TCPA300/TCPA400 Current Probe Amplifiers Include: documentation kit, TEKPROBE interface cable, male-to-male BNC cable (50 Ω), 50 Ω feedthrough termination, and certificate of traceable calibration.
AC/DC Measurement Capabilities
DC - 100 MHz, Current Probe Amplifier (TCPA300) uses:

DC - 100 MHz, 30 A DC (TCP312, TCP312A)
DC - 50 MHz, 50 A DC (TCP305A)
DC - 15 MHz, 150 A DC (TCP303)

DC - 50 MHz, Current Probe Amplifier (TCPA400) Uses:

DC - 2 MHz, 750*1 A DC (TCP404XL) (500 A DC Continuous)

Automatic Scaling and Units*2 - Oscilloscope On-screen Readout of Magnitude and Amps reduces errors by eliminating hand calculations
AC/DC Input Coupling
Low Insertion Impedance reduces Device Under Test Loading
Split-core Construction allows Easy Circuit Connection
Status Indicators provide Visual Operating Status and Notification of Potential Error Conditions - Degauss, Probe Open, Overload, Not Terminated into 50 Ω, Non-compatible Probe Type
Lower DC Drift and Noise allows Improved Low-level Current Measurements
Certified for bare wire voltages up to 150 V CAT II (TCP305A, TCP312A)