Tektronix TDS1001C-EDU Digital Storage Oscilloscope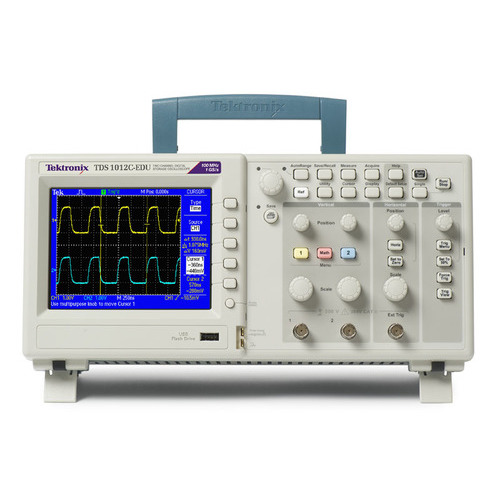 Brand:

Tektronix

Condition:

Used

Family Models:

TDS1001C-EDU, TDS1002C-EDU, TDS1012C-EDU

Discontinued:

Yes
TDS1001C-EDU Series Discontinued. Replaced with the TBS1000 Series Digital Storage Oscilloscopes.
Industry Standard Test and Measurement Equipment Geared to Education Labs
The TDS1000C-EDU Digital Oscilloscope Series is designed specifically to meet the needs of today's schools and universities. Packed with features and built-in tools, the three scopes in the TDS1000C-EDU series are easy to learn and simple to operate — ideal for first-time oscilloscope users and students. Featuring the same user interface as other members of the Tektronix TDS Oscilloscope Family, students will learn to operate the world's most popular oscilloscope platform, with over 500,000 oscilloscopes in operation worldwide.
Digital Precision for Accurate Measurements
With up to 100 MHz bandwidth and 1 GS/s maximum sample rate, no other digital storage oscilloscope offers as much bandwidth and sample rate for the price. Tektronix proprietary sampling technology provides real-time sampling with a minimum of 10X oversampling on all channels, all the time to accurately capture your signals. Sampling performance is not reduced when using multiple channels.
Critical Tools for Troubleshooting Your Device
Advanced triggers — rising/falling edge, pulse width, and video — help you quickly isolate your signals of interest. Once you've captured a signal, advanced math capabilities and automated measurements can speed your analysis. Quickly perform an FFT or add, subtract, or multiply waveforms. Sixteen automated measurements quickly and reliably calculate important signal characteristics such as frequency or rise time, while the built-in Limit Test function enables you to easily identify problems in your signal.
Probe Check Wizard
Check out your probe compensation before making measurements with just one button that starts a fast, easy procedure.
Flexible Data Transfer
The USB host port on the front panel enables you to save your instrument settings, screenshots, and waveform data in a flash.
Easy PC Connectivity
Easily capture, save, and analyze measurement results by connecting to your PC with the rear-panel USB device port and the included copy of OpenChoice® PC Communications Software. Simply pull screen images and waveform data into the stand-alone desktop application or directly into Microsoft Word and Excel. Alternatively, if you prefer not to use your PC, you can simply print your image directly to any PictBridge®-compatible printer.
Education Resources
Every TDS1000C-EDU model includes an Education Resource CD filled with tools to help your students master the use of an oscilloscope. The Education Resource CD includes two Student Labs and Instructor's Guides, and two primers. The Introduction to Oscilloscopes Student Lab and Instructor's Guide explains the basics of oscilloscope operation complete with hands-on exercises for your students. The Introduction to Oscilloscope Probes Student Lab and Instructor's Guide explains the fundamentals of probing and how probes can affect measurement quality. The two primers included are the most popular and widely-used from Tektronix - the XYZs of Oscilloscopes and ABCs of Probes.
Performance You Can Count On
In addition to industry-leading service and support, every TDS1000C-EDU Series oscilloscope comes backed with a 3-Year warranty as standard.
Features
TDS1001C-EDU
TDS1002C-EDU
TDS1012C-EDU
Display (QVGA)
Active Color TFT
Active Color TFT
Active Color TFT
Bandwidth*
40 MHz
60 MHz
100 MHz
Sample Rate on each Channel
500 MS/s
1.0 GS/s
1.0 GS/s
Channels
2
Record Length
2.5 k
Measurement
16 Automatic Measurements
Warranty
Three-year
External Trigger Input
Included on all models
Record Length
2.5k points at all time bases on all models
DC Vertical Accuracy
±3% on all models
* Bandwidth is 20 MHz at 2 mV/div, all models.
Please see Data Sheet for complete specifications
Includes: Two (2) TPP0101 Probes, NIM/NIST Calibration certificate, Classroom and lab resource CD, OpenChoice® PC software, Documentation, Power cord and 3-Year warranty
Key Performance Specifications
100 MHz, 60 MHz, 40 MHz Bandwidth Models
2 Channels
Up to 1 GS/s Sample Rate on All Channels
2.5k Point Record Length on All Channels
Advanced Triggers including Pulse Width Trigger and Line-selectable
Video Trigger
Ease-of-Use Features
16 Automated Measurements, and FFT Analysis for Simplified Waveform Analysis
Autoset and Signal Auto-ranging
Probe Check Wizard
11-Language User Interface and Context-sensitive Help
5.7 in. (144 mm) Active TFT Color Display
Small Footprint and Lightweight - Only 4.9 in. (124 mm) Deep and 4.4 lb. (2 kg)
USB 2.0 Host Port on the Front Panel for Quick and Easy Data Storage
USB 2.0 Device Port on Rear Panel for Easy Connection to a PC or Direct Printing to a PictBridge©-compatible Printer