Tektronix TDS3012C Digital Phosphor Oscilloscope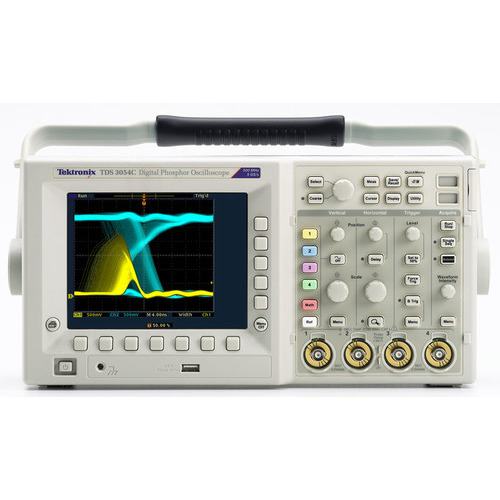 Brand:

Tektronix

Condition:

New

Bandwidth:

100 MHz

Meta Keywords:

Tektronix TDS3012C,Tektronix,TDS3012C,Digital Phosphor Oscilloscope
Performance You Need at a Price You Can Afford
The TDS3000C Series digital phosphor oscilloscopes (DPO) provide you with the performance you need at a price you can afford. Bandwidths range from 100 MHz to 500 MHz, with up to 5 GS/s sample rates for accurate representation of your signal.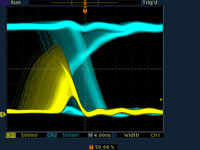 A DPO Provides Greater Level of Insight into Complex Signals.
To solve a problem, first you need to see it. The TDS3000C Series combines 3,600 wfms/s continuous waveform capture rate and real-time intensity grading so you can see the problem and solve it.
Fast waveform capture rates on a continuous basis save time by quickly revealing the nature of faults so advanced triggers can be applied to isolate them.
Real-time intensity grading highlights the details about the history of a signal's activity, making it easier to understand the characteristics of the waveforms you've captured. Unlike other comparable oscilloscopes, the history remains even after the acquisition is stopped.
Quickly Debug and Characterize Signals with DRT Sampling Technology and sin(x)/x Interpolation
The TDS3000C Series combines unique digital real-time (DRT) sampling technology with sin(x)/x interpolation to allow you to accurately characterize a wide range of signal types on all channels simultaneously. With the TDS3000C Series there is no change in sampling rate when additional channels are turned on, unlike other comparable oscilloscopes. This sampling technology makes it possible to capture high-frequency information, such as glitches and edge anomalies, that elude other oscilloscopes in its class, while sin(x)/x interpolation ensures precise reconstruction of each waveform.
Easy Setup and Use
When working under tight deadlines, you need your oscilloscope to be intuitive; you want to minimize time spent learning and re-learning how to use it. The TDS3000C Series oscilloscopes help reduce your learning curve. Simple navigation and dedicated front panel controls get you to where you want to be quickly, so that you spend less time learning and more time on the task at hand.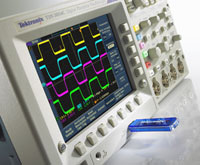 Simple Documentation and Analysis
The TDS3000C Series comes equipped with a USB host port so you can easily store and transfer measurement information to your PC. OpenChoice® PC Communication Software allows you to simply pull screen images and waveform data into a stand-alone desktop application or directly into Microsoft Word and Excel.
To complement OpenChoice®, National Instruments LabVIEW SignalExpress Tektronix Edition Software provides you with extended capabilities including advanced analysis, data logging, remote instrument control and live waveform analysis.
If you prefer not to use a PC for analysis, the TDS3000C Series comes standard with 25 automatic measurements, waveform add, subtract, divide and multiply math functions and Fast Fourier Transform (FFT). Unlike other comparable oscilloscopes, the TDS3000C Series math and measurement allows you to use the full acquisition record length or isolate a specific occurrence within an acquisition.
Instrument Control
Utilizing the built-in Ethernet port, e*Scope web-based remote control allows you to a control TDS3000C Series oscilloscope from anywhere, using the Internet and your PC.
Work Where You Need to
The TDS3000C Series packs the power of a DPO in a compact design that is only 5.9 in. (149 mm) deep, freeing up valuable bench-top space. And when you need to move your oscilloscope to another lab, its portable 7 lbs (3.2 kg) design makes for easy transport. If your work demands even more mobility, then the optional battery pack will give you up to three hours of operation without line power.
Higher Speeds Demand Greater Bandwidth.
You face faster clock rates and edge speeds, increasingly complex signals and mounting time-to-market pressures. The higher the bandwidth of your oscilloscope, the more accurate the reproduction of your signal. The TDS3000C Series offers a wide range of bandwidths from 100 MHz to 500 MHz to best suit the needs of your most demanding projects, so that you can complete your tasks on time and with confidence.
Each Tektronix TDS3012C, TDS3014C, TDS3032C, TDS3034C, TDS3052C, TDS3054C Includes:
1 P6139A Passive 10X probe per channel; user manual; power cord; accessory tray; protective front cover; OpenChoice® pc communication software; NI LabVIEW SignalExpress Tektronix Edition LE; NIM/NIST-Traceable Certificate of Calibration; documentation CD. Three year warranty, excluding probes and accessories.
USB Flash Drive Support
Up to 500 MHz Bandwidth, 5 GS/s per Channel
10 K Record Length each Channel
Full VGA Color LCD
25 Automatic Measurements
9-Bit Vertical Resolution
WaveAlert Anomaly Detection
FFT and Advanced Pulse/Logic Triggering
Optional Limit Testing, Advanced Analysis, Telecom Mask Test and Video Modules
TekProbe Interface
e*Scope Web-Based Remote Control
Ethernet included. Optional GPIB, RS-232 & VGA ports.
Three-year warranty