Tektronix TLA6404 Logic Analyzer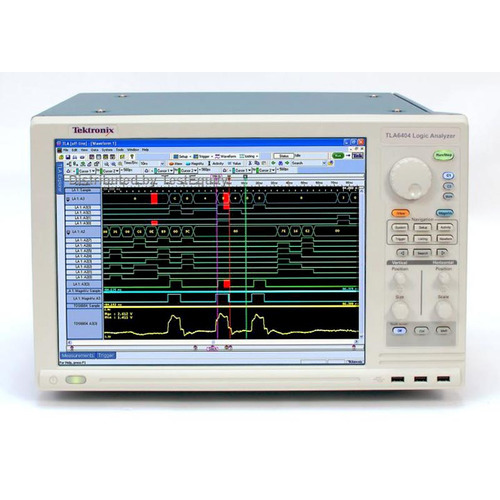 Brand:

Tektronix

Condition:

Used
Effectively Validate And Debug The Functionality Of Your Digital Designs
The 136-channel TLA6404 logic analyzer offers the performance needed to debug, validate, and optimize the functionality of your digital system. The TLA6404 also provides a comprehensive set of signal integrity debug tools that allow you quickly isolate, identify, and characterize elusive and hard-to-find problems. Add a broad range of support for today's applications, and you have the ideal tool to help you meet all of the debug challenges of today's digital designs.
Use the patented 25 GHz MagniVu technology to accurately measure timing relationships. The single, integrated acquisition architecture of the TLA6400 Series eliminates the timing skew problems inherent in other logic analyzer architectures
Capture on buses with clock rates up to 667 MHz and data rates up to 1333 Mb/s
Buy the capability you need now and upgrade as your measurement needs grow
Quickly isolate events through a simple and intuitive drag-and-drop trigger setup
Easily summarize your design's performance with sophisticated drag-and-drop measurements such as frequency, period, pulse width, duty cycle, and edge count
View data in a variety of time-correlated formats including waveform, listing, graph, disassembly, source code, or compare
Find Tough Signal Integrity Problems
Today's logic analyzers not only need to help troubleshoot functional issues in your design, but also need to help find signal integrity problems caused by crosstalk, termination mismatches, ground bounce, and other issues. To help debug these problems, the TLA6400 Series includes a comprehensive suite of signal debug tools.

These tools allow you to:
Use glitch trigger to monitor selected signals in your design and trigger when a signal integrity problem is found on any one of these signals
Automatically tag any found signal integrity problems, allowing you to quickly identify the signals of interest
Gain more insight into the problem using the exclusive iCapture functionality to view both digital and analog data through a single probe
Use iView to see time-correlated digital and analog displays of your data, letting you track the signal integrity problem across both analog and digital domains
Included: Mini Keyboard (119-7275-xx), Optical Wheel Mouse (119-7054-xx), Front-panel cover (200-4939-xx), TLA Application Software CD (063-3881-xx), Certificate of Traceable Calibration, and one-year warranty.
136-Channels
2 MB (Up to 64 Mb optional) Record Length
40 ps Resolution MagniVu™
333 MHz state (up to 667 MHz optional)
Data rates to 1333 Mb/s
15 in. Display, with Optional Touch Screen
Drag-and-Drop Triggering
Drag-and-Drop Measurements
Comprehensive Set of Signal Integrity Tools