Tektronix TLA7012 Logic Analyzer
Tektronix TLA7012 Logic Analyzer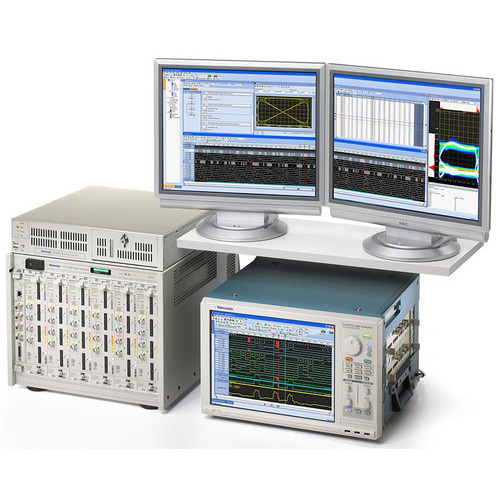 Manufacturer:

Tektronix

Condition:

Rental

Family Models:

TLA7000, TLA7012, TLA7016
Compression Probing System with 0.5 pF Capacitive Loading Eliminates Need for Onboard Connectors, Minimizes Intrusion on Circuits, and is Ideal for Differential Signal Applications
Trace Problems from Symptom back to Root Cause in Real Time across Multiple Modules by Viewing Time-correlated Data in a Wide Variety of Display Formats
PCI Express Gen1 through Gen3 including Gen3 Protocol to Physical Layer Analysis for Link Widths from x1 through x16 with up to 8.0 GT/s Acquisition Rates and up to 16 GB Deep Memory (for x16 Link)
Comprehensive PCI Express Probing Solutions, including Midbus, Slot Interposer, and Solder-down Connectors
Modular Mainframes provide Flexibility and Expandability
Supports up to 6,528 Logic Analyzer Channels, 48 Independent Buses
Broad Processor and Bus Support
Applications
FPGA Debug and Verification
MIPI Protocol Analysis
DDR2 and DDR3 Debug and Verification
Signal Integrity
PCI Express Debug from Protocol Layer to Physical Layer

Silicon Validation
Computer System Validation
Embedded System Debug and Validation

Processor/Bus Debug and Verification
Embedded Software Integration, Debug, and Verification
Breakthrough Solutions for Real-time Digital Systems Analysis
Tektronix provides breakthrough digital systems analysis tools that enable digital hardware and software designers to capture and analyze the source of elusive problems that threaten product development schedules. The TLA7000 Series provides the speed you need to capture the source of those elusive problems, plus the visibility you want with large displays and fast system data throughput, while protecting your investment with compatibility with all TLA modules.
TLA7ACx and TLA7Bxx Modules
Today's digital design engineers face daily pressures to speed new products to the marketplace. The TLA7ACx and TLA7Bxx Series logic analyzer modules answer the need with breakthrough solutions for the entire design team, providing the ability to quickly monitor, capture, and analyze real-time digital system operation in order to debug, verify, optimize, and validate digital systems. Hardware developers, hardware/software integrators, and embedded software developers will appreciate the range of capabilities of the TLA7ACx and TLA7Bxx Series logic analyzer modules. Its broad feature set includes capturing and correlating elusive hardware and software faults; providing simultaneous state, high-speed timing, and analog analysis through the same probe; using deep state acquisition to find the cause of complex problems; real-time, non-intrusive software execution tracing that correlates to source code and to hardware events; and non-intrusive connector-less probing.
| | | | |
| --- | --- | --- | --- |
| Module | Timing Resolution | State Speed | Memory |
| | | | |
| --- | --- | --- | --- |
| TLA7ACx | 125 ps (8 GHz) | Up to 800 MHz | Up to 128 Mb |
| TLA7Bxx | 20 ps (50 GHz) | Up to 1.4 GHz | Up to 128 Mb |
Please see Data Sheet for additional information.
Features & Benefits
68/102/136 Channel Logic Analyzers with up to 512 Mb Record Length
MagniVu™ Acquisition Technology provides up to 20 ps (50 GHz) Timing Resolution to Find and Measure Elusive Timing Problems Quickly
Up to 156 ps (6.4 GHz)/512 Mb Record Length Timing Analysis
Up to 1.4 GHz Clock with up to 3.0 Gb/s Data with a Data Valid Window of 180 ps for State Acquisition Analysis of High-performance Synchronous Buses
Glitch and Setup/Hold Triggering and Display Finds and Displays Elusive Hardware Problems
Transitional Storage Extends the Signal Analysis Capture Time for Signals that Transition Infrequently
Simultaneous State, High-speed Timing, and Analog Analysis through the Same Probe Pinpoints Elusive Faults