Tektronix TTR506A USB Vector Network Analyzer
Tektronix TTR506A USB Vector Network Analyzer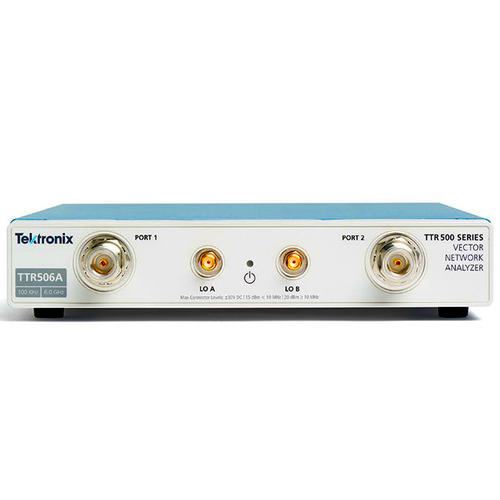 Product Features
PC-Controlled, USB 2.0 Instrument
The Tektronix TTR503A and TTR506A vector Network Analyzers (VNA) provide fully error-corrected network analysis from 100 kHz to 3/6 GHz in a low-cost, compact package that is ideal for the classroom, laboratory or factory environments. The TTR506A covers 100 kHz to 6 GHz, while the TTR503A covers 100 kHz to 3 GHz. Both units are USB controlled and come with software that operates on a PC running Microsoft Windows, allowing for seamless integration into your existing workflow with easily-networked USB PC hosts.
Full-featured, 2-port, 2-path VNAs to 6 GHz
Make complete S-parameter measurements on your active and passive devices. 120 dB Dynamic Range ensures thorough characterization of your DUT.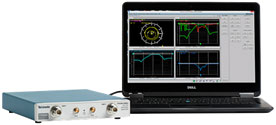 VectorVu-PC is touch-optimized to work with moders PCs.
A breakthrough in vector network analysis
The TTR503A and TTR506A VNAs offer full featured network analysis in a compact package. These TTR500 series VNAs place all of the RF electronics needed to perform VNA measurements in a compact S-parameter test set that is connected to a standard Windows computer via USB. VectorVu-PC™ SW provides an intuitive user interface with buttons and controls that are familiar to VNA users. Remote programming is done via a SCPI command set compatible with legacy models.
VNA Accessories
Calibration Kits

Cal kits are available in the three most common connector types (N, 3.5mm, 7/16) with male or female connector ends
Match the connector end type to that of your Device Under Test (DUT)
4-in-1 CALSOLT cal kits are good for everyday use across the broadest variety of applications. In addition, high-accuracy CALMECH cal kits are available as well

Adapters
Frequency: TTR503A: 100 kHz to 3 GHz; TTR506A: 100 kHz to 6 GHz
Function: 2-port, 2-path S-parameter test set; Type-N Female test ports
System Dynamic Range: 125 dB (200 MHz to 3 GHz); 122 dB (3 GHz to 6 GHz)
IF BW: 1 Hz to 500 kHz
Trace Noise: 0.006 rms dB, typical
Stability: 0.008 dB/°C (300 kHz to 3 GHz); 0.015 dB/°C (3 GHz to 6 GHz)
Source Power: -50 to +7 dBm
Sweep Type: Linear, log
Number of Points: 1 to 20001
Traces: Up to 16 traces
Markers: Up to 9 Markers
RoHS Compliant
Bias tee: Internal on both ports
Measure passive/active components and RF modules, test cables/adapters, etc.
Three-year warranty
| Manufacturer | Model | Description |
| --- | --- | --- |
| Tektronix | TTR500TRANSIT | Carrying Case For TTR500 Series VNAs |
| Tektronix | TTR500RACK | Rack Mount Kit For TTR500 Series VNAs |
| Tektronix | CALMECH-716 | Mechanical Calibration Kit 7/16 SOLT, 0 to 7.5 GHz (Spinner BN 53 38 40) |
| Tektronix | CALMECH-N | Mechanical Calibration Kit Type-N, 0 to 18 GHz (Spinner BN 53 38 61) |
| Tektronix | CALMECH-35MM | Mechanical Calibration Kit 3.5mm SOLT, 0 to 32 GHz (Spinner BN 53 38 54) |
| Tektronix | THRU-716-FM | Mechanical Calibration Kit Type-N SOLT, MF Thru Option 0 to 18 GHz (Spinner BN 533918R000) |
| Tektronix | THRU-N-FM | Mechanical Calibration Kit Type-N SOLT, MF Thru Option 0 to 18 GHz (Spinner BN 533918R000) |
| Tektronix | THRU-35MM-FM | Mechanical Calibration Kit 3.5mm SOLT, MF Thru Option 0 to 32 GHz (Spinner BN 533769R000) |
| Tektronix | CALSOLT35F | SOLT 4-In-One Kit 3.5 mm female |
| Tektronix | CALSOLT35M | SOLT 4-In-One Kit 3.5 mm male |
| Tektronix | CALSOLT716M | SOLT 4-In-One Kit 7/16 male |
| Tektronix | CALSOLTNF | SOLT 4-In-One Kit Type N female |
| Tektronix | CALSOLTNF-75 | SOLT 4-In-One Kit Type N female, 75 Ohms |
| Tektronix | CALSOLTNM | SOLT 4-In-One Kit Type N male |
| Tektronix | CALSOLTNM-75 | SOLT 4-In-One Kit Type N male, 75 Ohms |