Yamato DKM-300C Forced Convection Oven
Yamato DKM-300C Forced Convection Oven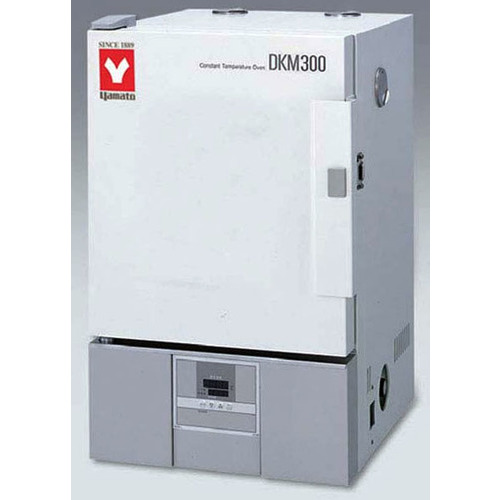 Manufacturer:

Yamato

Condition:

New
Standard forced convection constant temperature oven [View]
Operating temperature range: 10°C over room temperature to 260°C
Internal dimensions (WxDxH): 300 x 300 x 300mm (0.95 Cu Ft)
Internal capacity: 27L
External dimensions (WxDxH): 410 x 451 x 670mm
0.8 kW Stainless pipe heater
Fan type/Motor: 10 watt Scirocco fan/Condenser type motor
Max. temp. reaching time: Approx. 90 min. (Room temp. to 260°)
Exhaust port(s): I.D. 30mm x 2 | Cable port: I.D. 30mm (Right side)
Temperature can be digitally set by

▴

&

▾

keys
Sensor: K thermocouple; Heater circuit control: SSR control
Auto overheat prevention, Independent overheat prevention
Fixed temperature, auto stop, auto start, quick auto stop
Auto recovery after power failure, calibration off-set and key-lock are possible through the auxiliary functions
DKM-Series Temperature Curve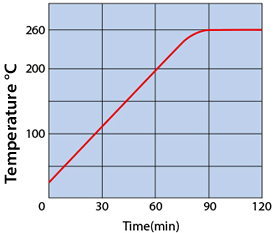 Forced convection, constant temperature oven with basic fixed settings
Yamato DKM-300C and DKM-310C Basic and Economical Ovens are standard forced convection constant temperature ovens with simple operation functions.
Safety features: Self diagnostic functions (Sensor trouble detection, Memory error, Measured temperature lower limit error, Measured temperature error), Auto overheat prevention, Independent overheat prevention.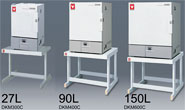 DKM-300C, DKM-310C additional performance functions include auto recovery after power failure, calibration offset and key-lock are possible through the auxiliary functions.
DKM Series Dimensions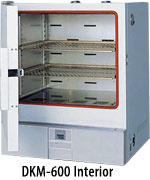 DKM Series Specifications
Model
DKM300C
DKM310C
DKM400C
DKM410C
DKM600C
DKM610C
Operating temp. range
Room temp. +10 to 260°C
Temp. control accuracy
±1°C (at 210°C)
Temp. distribution accuracy
±2.5°C (at 210°C)
Max. temp. reaching time
Approx. 90 min. (at room temp. +10°C~260°C)
Temp. controller
PID control
Internal dimensions
(WxDxH mm)
300x300x300
450x450x450
600x500x500
Internal capacity
27L
90L
150L
Power source 50/60Hz
115V, 8A (15A)
220V, 4.25A
115V, 12A (15A)
220V, 6.25A
115V, 13A (20A)
220V, 7A
Weight
Approx. 35kg
Approx. 50kg
Approx. 65kg
Included with DKM-300C and DKM-310C: cable and exhaust ports, two (2) stainless steel metal shelf plate and four (4) shelf brackets.