Yamato DKN-612C Programmable Forced Convection Oven
Yamato DKN-612C Programmable Forced Convection Oven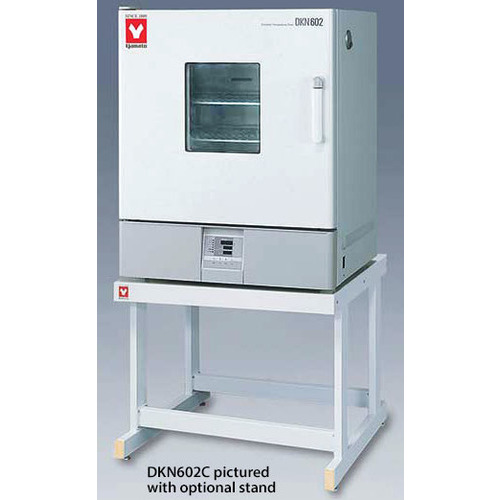 Manufacturer:

Yamato

Condition:

New

Manufacturer Part #:

DKN-612C

Meta Description:

Shop here for the Yamato DKN-612C Programmable Forced Convection Oven plus the other tools & supplies. With unmatched product selections, TestEquity offers everything you need to get the job done.

TestEquity Part #:

26135.1
Additional shipping charges will be applied to your order at time of invoicing.
Fully-programmable forced convection constant temperature oven [View]
Operating range: 10°C over room temperature to 260°C in approximately 90 minutes
Internal dimensions (WxDxH): 600 x 500 x 500mm (5.3 Cu Ft)
Internal capacity: 150L
External dimensions (WxDxH): 710 x 651 x 870mm
1.5 kW Stainless pipe heater
Fan type/Motor: 10 watt Scirocco fan/Condenser type motor
Exhaust ports: I.D. 30mm x 2 (top) | Cable port: I.D. 30mm (Right side)
Observation window: 250 x 280mm Chemical strengthening glass x 3
Programmable PID controller for easy program settings; 30-step, 3-pattern program controller with repeat functions
Temperature can be digitally set by

▴

&

▾

keys
Sensor: K thermocouple; Heater circuit control: SSR control
Auto overheat prevention, Independent overheat prevention
Environment friendly, programmable forced convection ovens
The DKN-602C, DKN-612C energy saving programmable ovens are environment friendly, programmable forced convection eco-ovens with low power consumption and CO2 emission.
Safety features: Self diagnosis functions (temp. sensor abnormal, Heater disconnection, SSR- short, Automatic overheating prevention), Key lock function, Overheat prevention, Electric leakage breaker with over current protection.
Included with DKN-602C, DKN-612C: cable and exhaust ports, two (2) stainless steel metal shelf plate and four (4) shelf brackets.
DKN Series Specifications
Model
DKN302C
DKN312C
DKN402C
DKN412C
DKN602C
DKN612C
DKN812C
DKN912C
Operating temp. range
Room temp. +10 to 260°C
Room temp. +10 to 210°C
Temp. control accuracy
±1°C (at 210°C)
Temp. distribution accuracy
±2.5°C (at 210°C)
Max. temp. reaching time
Approx. 90 minutes
Approx. 60 minutes
Temp. controller
PID control
Internal dimensions
(WxDxH mm)
300x300x300
450x450x450
600x500x500
600x500x1000
1070x500x1000
Internal capacity
27L
90L
150L
300L
535L
Power source 50/60Hz
115V,
7 .5A
220V,
4.5A
115V,
11A
220V,
6.5A
115V,
12.5A
220V,
7A
220V,
15A
220V,
18A
Weight
Approx. 35kg
Approx. 50kg
Approx. 65kg
Approx. 110kg
Approx. 190kg
Please refer to Data Sheet for complete specifications.