cTUVus Certification
TestEquity Models 107, 115A, 115R, and 123C have been certified by TÜV Rheinland to meet these safety standards for the USA and Canada:
UL 61010-1:2012 R4.16
CAN/CSA-C22.2 NO. 61010-1-12 + GI1 + GI2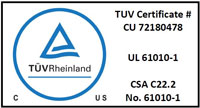 This test mark, also referred to as the "cTUVus mark", serves as proof of compliance with US national standards from UL adopted by OSHA and the Canadian national standards of CSA adopted by the Standards Council of Canada (SCC). US Authorities Having Jurisdiction (AHJs) and Provincial Regulators across Canada recognize the cTUVus mark as proof of product compliance to published national standards and code requirements.
The cTUVus mark is officially recognized as an equivalent and direct replacement of the UL and CSA marks.
UL is both a US standards body and a laboratory. National Recognized Testing Laboratories (NRTL) like TÜV Rheinland can test to the same standards and specifications as those defined by UL as US standards. In 1984, OSHA created the NRTL program. Currently, there are more than 15 registered companies on the OSHA list. To operate in the US, NRTLs must be accredited by OSHA (Occupational Safety and Health Administration) in an exacting process. This process ensures that the testing laboratory has the necessary equipment, technical skills, physical facilities, and quality management systems to conduct proper testing and certification for each product category in its application. See more info on OSHA's website.
In Canada, TÜV Rheinland is an officially certified Product Certification Body by SCC (Standards Council of Canada) in Canada. See more info on the SCC website.
View the status of our Certificate No. CU 72180478 on TÜV Rheinland's website.