Yamato DG-800C Natural Convection Oven
Yamato DG-800C Natural Convection Oven
0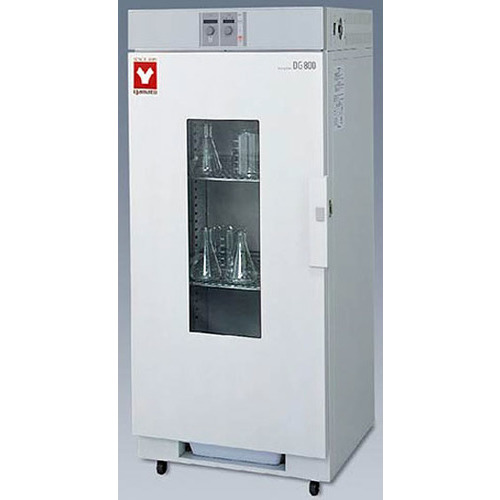 Drill Down Description:

Natural Convection Oven

Model:

DG-800C

Web Meta Description:

If you are searching for a DG-800C Natural Convection Oven, TestEquity can provide the solution you need. We carry the best electronic test & measurement solutions from top manufacturers.

Product Code:

chamber

Quote Required:

No

Condition:

New

Accessories Sort Priority:

0

Multiple Sale Qty:

1

UNSPSC:

4111000000
Additional shipping charges will be applied after checkout
Natural Gravity Convection [View]
Operating temperature range: 5°C over room temperature to 70°C
Internal dimensions (WxDxH): 620 x 600 x 1195mm (15.7 Cu Ft)
Internal capacity: 445L
External dimensions (WxDxH): 674 x 711 x 1586mm
1.34 kW Stainless pipe heater
Mobile on casters
Excellent temperature accuracy
Exhaust port(s): I.D. 34mm x 2 | Suction port(s): I.D. 30mm x 2
Temperature can be digitally set by

▴

&

▾

keys
Easy to use and maintain
PID control with microprocessor
Sensor: Temp. controller: K thermocouple, Overheat protection: Liquid-expansion temp. controller
Fixed temperature, auto stop, auto start, quick auto stop
Deviation correction, Key lock, Power outage compensation
Single stainless steel door w/ 3 mm standard glass 250 (w) X 700 mm (h) Observation window
Adjustable foot for stability on uneven floors
Dial setting and digital display of temperature control and timer
Natural convection oven for glassware drying
The DG-800C and DG-810C are standard type natural convection constant temperature drying ovens with 15.7 Cu Ft interior space, extensive features and simple operation. These ovens do not use fans. Heat rises by natural air convection for a slower heat flow.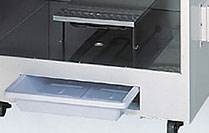 Yamato DG Ovens Water Receiving Plate
Safety features:
Self-diagnostic functions
Calibration offset
Independent overheat prevention
Over current leakage breaker key lock and auto recovery after power failure
Note: Accurate temperature control may not be possible with heat generating samples in the chamber
Included with DG-800C/DG-810C: one water receiving plate, four (4) stainless steel punched metal shelf plates and eight (8) shelf brackets.