Tektronix P6139B Passive Voltage Probe 500 MHz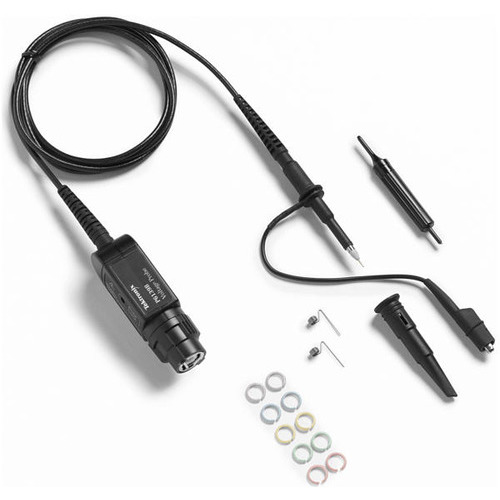 Condition:

New

Drill Down Description:

Passive Voltage Probe, 500 MHz

Keywords:

P6139A, P6139B

Model:

P6139B

Quote Required:

No

Web Meta Description:

Tektronix P6139B Passive Voltage Probe, TestEquity can provide the solution you need. We carry the best electronic test & measurement solutions from top manufacturers.
500 MHz Probe Bandwidth
Large Input Impedance at the Probe Tip (10 MΩ, 8pF)
10X Attenuation Factor
300 V CAT II Input Voltage
Compact Probe Head for Probing Small Geometry Circuit Elements
Small Probe Body for Enhanced Visibility to the Device-Under-Test
Replaceable Probe Tip Cartridges
Large Accessory Set for Versatile Connectivity
1 Year Warranty
Tektronix P6139B and P5050B probes are high bandwidth, high impedance 10X passive voltage probes with 10 MΩ input resistance. These probes feature a small probe head and sharp tip that makes it easier to probe dense circuitry. The P6139B and P5050B share similar electrical specifications but support Tektronix oscilloscopes with different compensation ranges.
Attenuation - 10X
Dynamic Range - 300 V CAT II
Bandwidth - 500 MHz
Input Impedance at the Probe Tip - 10 MΩ, 8 pF
Compensation Range -
P6139B: 8 pF to 18 pF
P5050B: 16 pF to 22 pF
Cable Length - 1.3 m