Keysight 34330A 30 Amp Current Shunt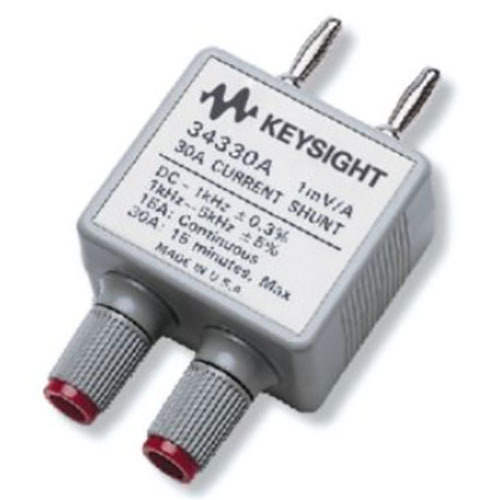 Condition:

New

Drill Down Description:

30 Amp Current Shunt

Keywords:

Current Shunt

Model:

34330A

Quote Required:

No

Web Meta Description:

Find the product you need with our Keysight 34330A 30 Amp Current Shunt. We proudly offer best-in-class customer service and will help you find the solutions you need for your business.
Current range: 15 A continuous
Maximum current: 30 A for 15 minutes maximum
Accuracy: 0.3% from dc to 1 kHz
Accuracy: 5% from 1 kHz to 5 kHz
Termination: dual banana plugs
The Keysight 34330A current shunt is a precision 0.001 ohm resistor housed in a plastic case surrounded by epoxy. Output is 1 mV per A of current passing through the shunt. The current to be measured is connected to the shunt via binding posts.
Keysight 34330A is compatible with the Keysight 34460A, 34461A, 34401A, 34405A, 34410A, 34411A, L4411A and 3458A DMMs.