Keysight E3630A Multiple Output Power Supply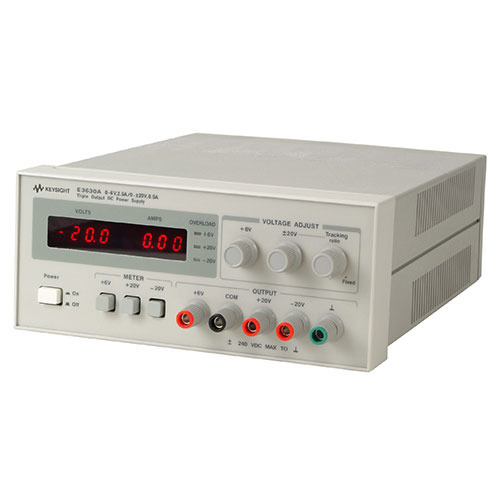 Watts:

35

Condition:

New

Drill Down Description:

Multiple Output Power Supply

Keywords:

E3630A, power, supply, supplies, dc, multiple, output, agilent

Model:

E3630A

Quote Required:

No

Web Meta Description:

Browse through each item you'll need for your task, including the Keysight E3630A Multiple Output Power Supply. TestEquity offers various delivery options to help meet your deadlines.
0 to ±20 V, 0.5 A and 0 to 6V, 2.5 A outputs
0.01% +2 mV load and line regulation
Ripple & noise <350 µVrms/1.5 mV p-p
Voltage and Current meters
Constant voltage, fixed current limiting
<50 µsec transient response for 10 mV recovery from full load to half load
With multiple supplies in a compact unit, the E3630A gives you excellent performance while saving space on your bench. Features tight 0.01% line and load regulation and a low normal-mode noise specification of less than 0.35 mV to ensure clean power for precision circuitry. With a common-mode current specification of less than 1 µA, both multiple-output power supplies minimize power line current injection.
The E3630A features separate digital panel meters so you can monitor voltage and current simultaneously. They also protect your DUT against overload and short-circuit damage. Smooth turn-on and turn-off transitions keep power spikes out of your circuits.
The E3630A has three outputs with common-returns, 0 to +6 V at 2.5 A maximum and 0 to ±20 V/0.5 A. The -20 V output can be set to any value less than the +20 V output using the Tracking Ratio control. The ±20 V control is used to vary both outputs simultaneously for auto tracking. The +6 V output is adjusted independently. It is rated 2.5 A @ 6 V and derates to 1 A @ 0 V.