Keysight 3458A Digital Multimeter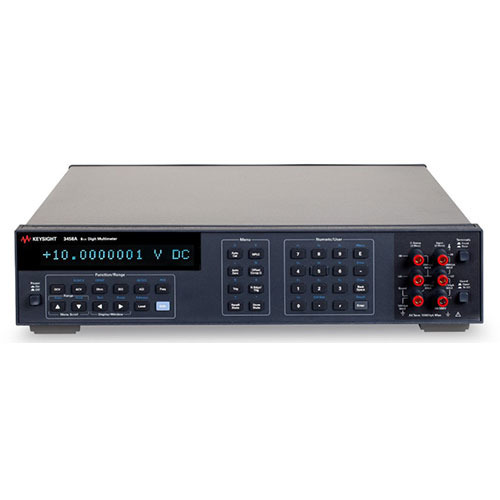 Condition:

New

Display Digits:

8.5

Drill Down Description:

DIGITAL MULTIMETER

Keywords:

8 1/2 Digit Multimeter

Model:

3458A

Quote Required:

No

True RMS:

Yes

Web Meta Description:

Keysight 3458A. Fast delivery, sale, rent or lease, authorized distributor.
8 1/2 Digits
Measure with confidence with up to 8 ppm 1-year DCV accuracy (4ppm with option 002)
Maximize productivity with fast measurement speeds up to 100K readings/s
Up to 148K reading memory for prolonged data logging (extended memory now included in all new 3458A effective 10/2019)
DCV and ACV, DCI and ACI, Frequency, Temperature
2- and 4-wire Resistance
Maximum sensitivity: 10 nV
Programmable integration times from 500 ns to 1 sec
Two-source (10 V, 10 kΩ) calibration, including AC
Self-adjusting, self-verifying auto-calibration for all functions and ranges, including AC
Multimeter Language (ML) compatible
GPIB
Keysight 3458A Multimeter, recognized the world over as the standard in high performance DMMs, offers very high accuracy and high-speed digitizing for calibration laboratory precision measurements and fast test system throughput.
Select a reading rate of 100,000 readings per second for maximal test throughput. Or achieve highest levels of precision with up to 8-1/2 digits of measurement resolution and 0.1 part per million transfer accuracy. Add this to the Keysight 3458A's simplicity of operation, and you have the ideal multimeter for your most demanding applications.
DC Volts

5 ranges: 0.1 V to 1000 V
8-1/2 to 4-1/2 digits resolution
Up to 100,000 readings/s (4-1/2 digits)
Maximum sensitivity 10 nV
0.6 ppm 24-hour accuracy
8 ppm)/year voltage reference stability (4 ppm with opt. 002

Resistance

9 ranges: 10 ohms to 1 Gohms
2-wire and 4-wire measurements with offset compensation
Up to 50,000 readings/second (5-1/2 digits)
Maximum sensitivity 10 micro-ohms
2.2 ppm 24-hour accuracy

AC Volts

6 ranges: 10 mV to 1000 V
1 Hz to 10 MHz bandwidth
Up to 50 readings/s with all readings to specified accuracy
Choice of sampling or analog true rms techniques
100 ppm best accuracy

DC Current

8 ranges: 100 nA to 1 A
Up to 1,350 readings/s (5-1/2 digits)
Maximum sensitivity 1 pA
14 ppm 24-hour accuracy

AC Current

5 ranges: 100 µA to 1 A
10 Hz to 100 kHz bandwidth
Up to 50 readings/second
500 ppm 24-hour accuracy

Frequency and Period

Voltage or current ranges
Frequency: 1 Hz to 10 MHz
Period: 100 ns to 1 second
0.01% accuracy
AC or DC coupled

Features

Math and Statistics
20 kB memory
Self-adjusting autocalibration
Up to 100,000 readings/s over GPIB or with internal memory
Includes operation and service manuals, test lead set, power cord, NIST-traceable calibration certificate. Three-year warranty.