Keysight 34420A nanoVolt / microOhm Meter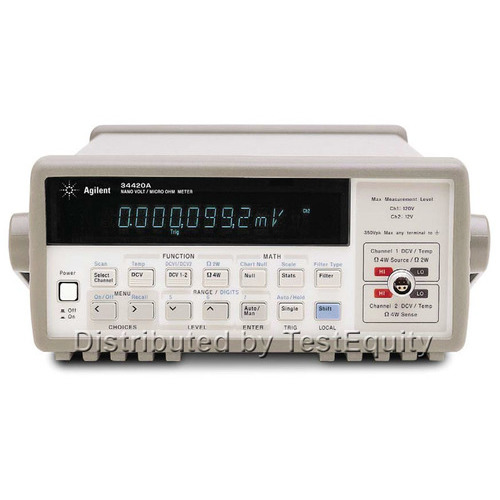 Drill Down Description:

nanoVolt / microOhm Meter

Model:

34420A

Display Digits:

7.5

Web Meta Description:

Keysight 34420A nanoVolt / microOhm Meter, 7.5 digit micro-ohm meter with high sensitivity DCV and resistance measurements at 100 pV and 100 nano Ohm. In stock at TestEquity.

Quote Required:

No

Condition:

New
Notice: Model 34420A will be discontinued on December 1st, 2021. The last day to place order for this product is November 30, 2021. There is no direct replacement.
7-1/2 digits resolution
100 pV / 100 nOhm sensitivity
1 mV to 100 V ranges
1.3 nVrms / 8 nVpp noise performance
Two-channel programmable voltage input with difference and ration functions
Direct SPRT, RTD, Thermistor, and Thermocouple measurements
Accurate temperature measurements with 0.003°C accuracy using SPRT probes
Built-in low noise 2-channel scanner
GPIB, RS-232, SCPI, and Keithley 181 languages
Three-year warranty
Keysight 34420A nanoVolt/microOhm Meter is a high-sensitivity multimeter optimized for performing low-level measurements. It combines low-noise voltage measurements with resistance and temperature functions, setting a new standard in low-level flexibility and performance.
Includes low thermal input cable (34102A), low thermal shorting plug (34103A), Kelvin clip set (11062A), calibration certificate, power cord. Also includes CD with: software, IVI and VXI PnP drivers, user's guide, service guide, and data sheet.