Instek SPS-606 Power Supply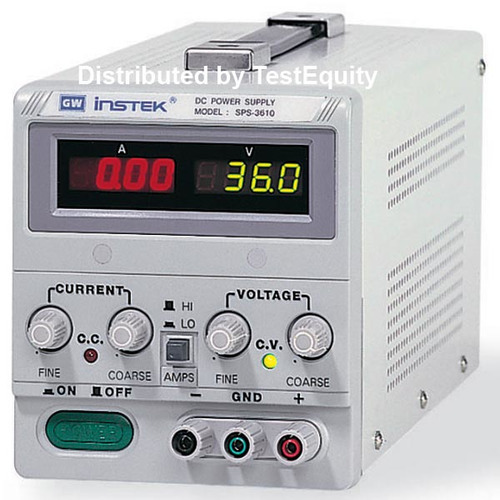 Amps:

6

Voltage:

60

Watts:

360

Condition:

New

Drill Down Description:

POWER SUPPLY

Model:

SPS-606

Product Code:

Instek

Quote Required:

No

Web Meta Description:

If you are searching for a Instek SPS-606 Power Supply, TestEquity can provide the solution you need. We carry the best electronic test & measurement solutions from top manufacturers.
360 Watts in a Small Package
0.01% Regulation
Two Digital Panel Meters
Coarse and Fine Voltage and Current Controls
Constant Voltage and Constant Current Operation
High Efficiency Switching Power Conversion
Overload and Reverse Polarity Protection
Adjustable Overvoltage Protection (on rear panel)
High Current Terminal Strip with Remote Sensing (on rear panel)
2 Year Warranty
The Instek SPS-Series are single output, 360 Watt, switching DC power supplies.
OVP protects the SPS-Series and the load from unexpected overvoltage conditions. High regulation is maintained at 0.01%. Remote sensing adds extra level of precision by compensating cable losses between loads. Turning the output On/Off from external device is available through remote control terminals.
The SPS-Series are an ideal solution for power-efficient benchtop or portable applications requiring high regulation.