Keysight 34922A 70-Channel Armature Multiplexer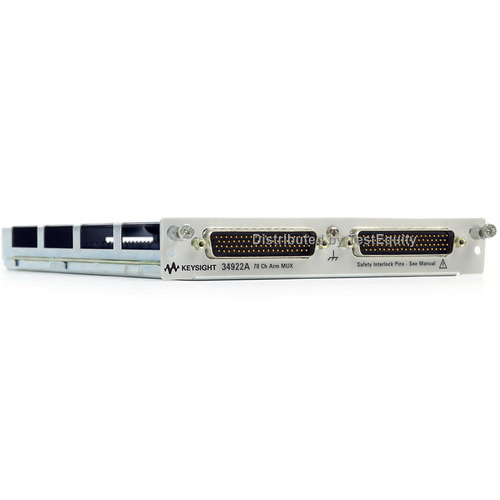 Condition:

New

Drill Down Description:

70-Channel Armature Multiplexer

Model:

34922A

Quote Required:

No

Web Meta Description:

If you are searching for a Keysight 34922A Armature Multiplexer, TestEquity can provide the solution you need. We carry the best electronic test & measurement solutions from top manufacturers.
70-Channel Armature Multiplexer for 34980A
70 2-wire channels
Mix 2- or 4-wire configurations
100 ch/s scanning
300V, 1A switch; 2A carry current
Latching armature relays, with relay counter
The Keysight 34922A module for the 34980A Multifunction Switch/Measure Unit offers high density multiplexer switching in a compact size. It combines dense, multi-function switching with 100 channel/second scan rates to address a broad spectrum of data acquisition applications.

Current measurements can be accomplished with user provided shunt resistors. Standard 78-pin Dsub connectors allow for use with standard cables, terminal blocks, or mass interconnect solutions.