Sorensen XPF60-20D DC Power Supply Dual 420 watt PowerFlex XPF Series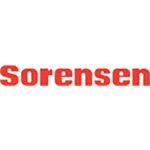 Sorensen XPF60-20D DC Power Supply Dual 420 watt PowerFlex XPF Series
4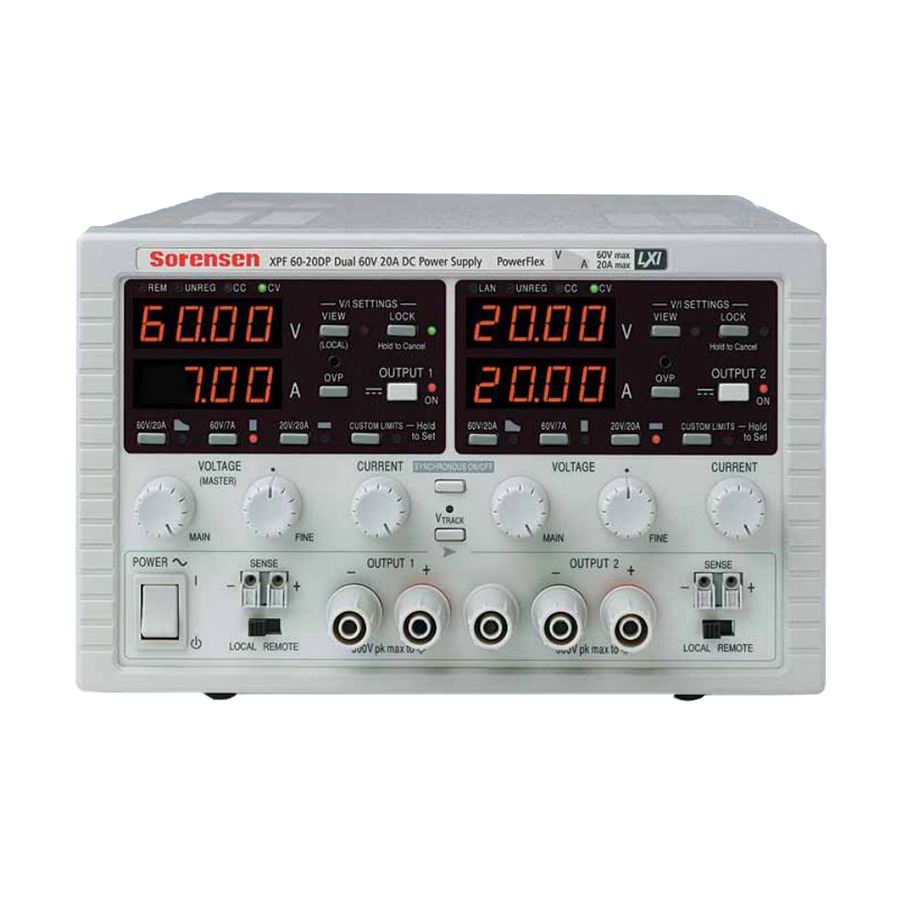 Drill Down Description:

DC Power Supply, Dual 420 watt PowerFlex, XPF Series

Model:

XPF60-20D

Web Meta Description:

Sorensen Programmable Power Supplies, including the XPF60-20D, available today at Jensen Tools.

UNSPSC:

39121009
PowerFlex design gives variable voltage and current combinations within a maximum power envelope
Up to 60V and up to 20A per output (420W maximum)
Constant voltage or constant current operation
Low output noise and good transient response
PowerFlex or fixed-range operation plus custom limits
True analogue controls with digital settings locking
Independent outputs or isolated voltage tracking
Outputs can be wired in series or parallel for 120V or 40A
Variable OVP trips; safety binding-post terminals
4 digit fixed resolution meters; selectable remote sensing
GPIB, RS-232, USB and LAN interfaces with LXI class C compliance
Compact ½ rack 3U case size; front and rear terminalsf Up to 60V and up to 20A per output (420W maximum)
Constant voltage or constant current operation
Low output noise and good transient response
PowerFlex or fixed-range operation plus custom limits
True analogue controls with digital settings locking
Independent outputs or isolated voltage tracking
Outputs can be wired in series or parallel for 120V or 40A
Variable OVP trips; safety binding-post terminals
4 digit fixed resolution meters; selectable remote sensing
GPIB, RS-232, USB and LAN interfaces with LXI class C compliance
Compact ½ rack 3U case size; front and rear terminals
Sorensen XPF Series DC Power Supply DatasheetChoose voltage and current combinations to suit your applications
The XPF series from Sorensen is a different type of laboratory power supply designed to meet the need for flexibility in the choice of voltage and current.
A conventional power supply has a fixed current limit giving a power capability that reduces directly with the output voltage.
The PowerFlex design of the XPF series enables higher currents to be generated at lower voltages within an overall power limit envelope.
Each output can provide considerably higher current than a conventional power supply of the same maximum voltage and power (see power curve).
Example voltage & current combinations include 60V/7A, 42V/10A, 28V/15A, and 20V/20A.

Building upon success
The XPF60-20D is the latest models in the XPF series from Sorensen and were developed from the XPF60-20, one of the most successful power supplies ever.
Independent and simultaneous output control
The Both On/Both Off button is in addition to the individual switches for each output, and allow both outputs to be turned on or off synchronously by a single button press.
Synchronous switching of the outputs is of increasing importance for circuitry which can be damaged if one voltage rail is present without the other.
Low noise and good dynamic response
The PowerFlex regulation system used on the XPF60-20DP combines a high frequency pre regulator with a linear post regulator to give both low noise and good transient response. Each output can operate in constant voltage or constant current mode with automatic crossover and mode indication.