Keysight N8482A/100/CFT RF Power Sensor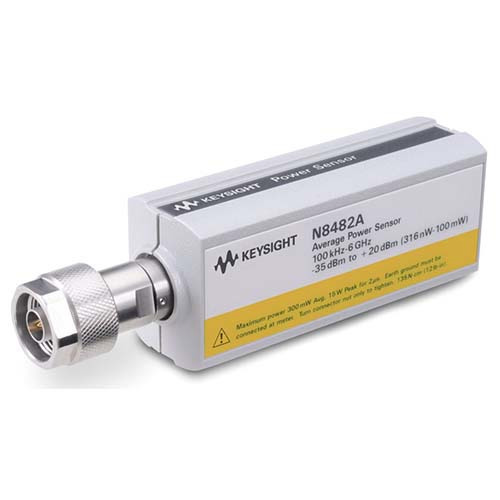 Drill Down Description:

RF Power Sensor

Model:

N8482A/100/CFT

Web Meta Description:

Keysight's N8482A Thermocouple Power Sensor is a replacement product for legacy 8480 power sensors. They provide more accurate power measurements with excellent power linearity and repeatability.

Quote Required:

No

Condition:

New

Accessories Sort Priority:

0

Multiple Sale Qty:

1

UNSPSC:

4111000000
100 kHz to 6 GHz frequency range
Wide dynamic range from -30 dBm to +20 dBm
High accuracy with excellent power linearity and repeatability
Option CFT DELETES internal EEPROM for calibration factors
Compatible with EPM (N1913A/14A, E4418B/19B), EPM-P (E4416A/17A), P-Series (N1911A/12A) power meters
SCPI code compatibility with 8480 series (with option CFT). Option CFT is available as a replacement of legacy 8480 Series power sensors intended for cal factor manual entry and SCPI compatibility. Not compatible with 43x and other obsolete power meters.
N8482A/100/CFT has Type-N (m) connector and SCPI code compatibility with 8480 series (deletes internal EEPROM)
Keysight's new Thermocouple Power Sensor is a replacement product for legacy 8480 power sensors. They provide more accurate power measurements with excellent power linearity and repeatability.
Option CFT makes this a drop in replacement for legacy 8480 Series Power Sensors by maintaining the manual calibration factor entry and SCPI compatibility.
Compatible with Keysight EPM (E4418B/19B), EPM-P (E4416A/17A) and P-series (N1911A/12A) power meters family only (free firmware upgrade may be required).
Not compatible with older 400 Series power meters.