Keithley 6221 AC and DC Current Source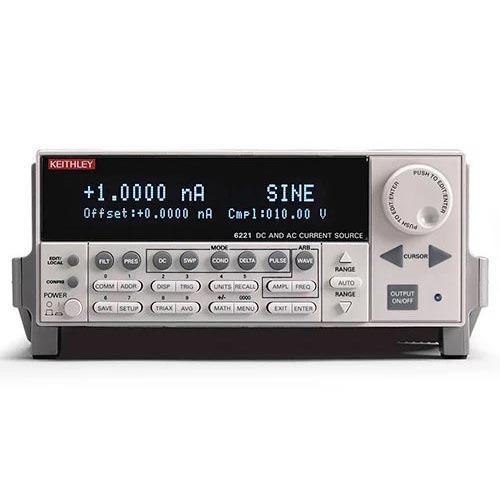 Amps:

100 mA

Voltage:

105

Watts:

11

Condition:

New

Drill Down Description:

AC and DC Current Source

Model:

6221

Quote Required:

No

Web Meta Description:

Shop here for the Keithley 6221 AC and DC Current Source plus the other tools & supplies. With unmatched product selections, TestEquity offers everything you need to get the job done.
Source and sink (programmable load) 100fA to 100mA
1014Ω output impedance ensures stable current sourcing into variable loads
65000-point source memory allows executing comprehensive test current sweeps directly from the current source
Built-in RS-232, GPIB, Trigger Link, and digital I/O interfaces
Reconfigurable triax output simplifies matching the application's guarding requirements
Model 220 emulation mode eliminates need to reprogram existing applications
Source AC currents from 4 pA to 210m A for AC characterization of components and materials. The 6221's 10MHz output update rate generates smooth sine waves up to 100kHz
Built-in standard and arbitrary waveform generators with 1mHz to 100kHz frequency range. Applications include use as a complex programmable load or sensor signal and for noise emulation
Programmable pulse widths as short as 5μs, limiting power dissipation in delicate components. Supports pulsed I-V measurements down to 50μs when used with Model 2182A Nanovoltmeter
Built-in Ethernet interface for easy remote control without a GPIB controller card
Model 6221 AC and DC Current Source combine ease of use with exceptionally low current noise. Low current sourcing is critical to applications in test environments ranging from R&D to production, especially in the semiconductor, nanotechnology, and superconductor industries. High sourcing accuracy and built-in control functions make Model 6221 ideal for applications like Hall measurements, resistance measurements using delta mode, pulsed measurements, and differential conductance measurements.
AC current source and current source waveform generator. Model 6221 is the only low current AC source on the market. Before its introduction, researchers and engineers were forced to build their own AC current sources. This cost-effective source provides better accuracy, consistency, reliability, and robustness than "home-made" solutions. The Model 6221 is also the only commercially available current source waveform generator, which greatly simplifies creating and outputting complex waveforms.
Includes:
237-ALG-2 6.6 ft (2m), Low Noise, Input Cable with Triax-to-Alligator Clips
8501-2 6.6 ft (2m) Trigger Link Cable to connect 622x to 2182A
CA-180-3A Ethernet Crossover Cable
CA-351 Communication Cable between 2182A and 622x
CS-1195-2 Safety Interlock Connector
Instruction manual on CD
Getting Started manual (hardcopy)
Software (downloadable).